A few weeks ago I put up a list of the Top 15 IPO's showing the greatest demand over the past 30 trading days and several of the stocks in that list have tacked on big gains since I posted it.  Stocks like Gushan Environmental (GU) up around 60%, LDK Solar (LDK) up over 30%,  VisionChina (VISN) up about 30%, Vanceinfo Tech (VIT) up 30%, First Solar (FSLR) up 30%, Trina Solar (TSL) up 25% and ReneSola (SOL) up around 20%.
To give you head start on research for the weekend, I thought I'd post the Top 10 Breakout Stocks showing the greatest demand over the past 20 days.  It should be noted that several of these are well extended from a proper buy point and should be avoided for now.  As for the rest, they are not buy recommendations but simply ideas for further research.  Now get on with that further research!
The following is a screenshot of the SelfInvestors Breakout Tracker database.  A database of only the highest quality companies leading the market.  The table is sorted by DI 20 so that those stocks showing the greatest demand over the past 20 days are listed at the top.  The DI (or demand indicator) is a proprietary indicator that I use to track price and volume movement in a stock.
Please click on the image below to launch a larger image that you can actually see.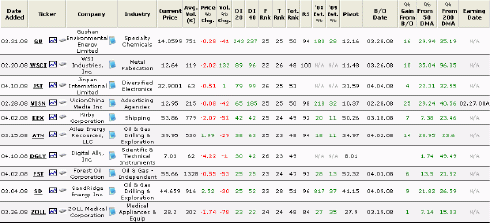 Notice that a few IPO's that I highlighted in the last report appear here as well.  That's because IPO's are included in the Breakout Tracker too once they have formed their first base.
Let's take a look at the charts starting right from the top with Gushan Environmental (GU).  The stock broke out above 12 with very heavy volume and offered an entry there.  It ran up another 30 from there before consolidating into a triangle formation which is where it sits now.  It's still a bit overextended and I could see it breaking that triangle below and retesting the breakout point around 12 as many breakout stocks do.
WSI Industries (WSCI) is an interesting one off the radar of many but it's had a tremendous run in recent weeks.  This is another one that's over extended but should be watched closely for a return to the upward trend line where it may offer a decent entry point.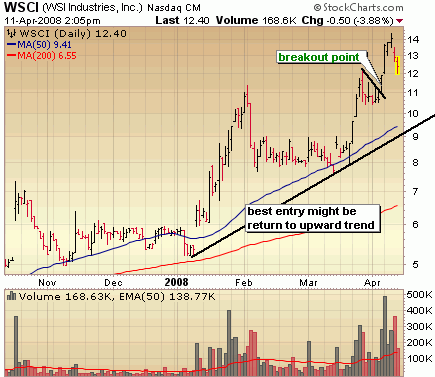 Jinpan International (JST) is one of my favorite breakout plays currently, but I'd like to see it come in a bit more after its recent breakout.  Buy vs sell volume is excellent and with the stock trading up around all time highs, there is lots of room to run if this market can get going again.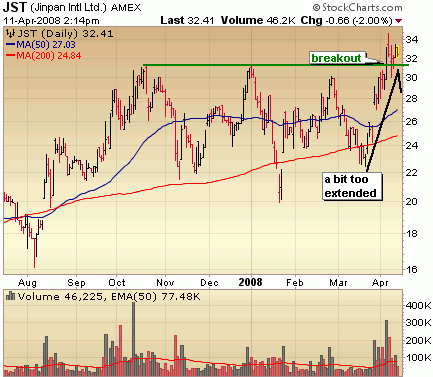 VisionChina (VISN) is another one I highlighted in that IPO report a few weeks back and it has done nothing but surge higher.  It's well extended, but this is shaping up as a home run stock and should be watched closely for pull backs.  A return to that steep upward trend line might offer an initial spot to get in if you missed it.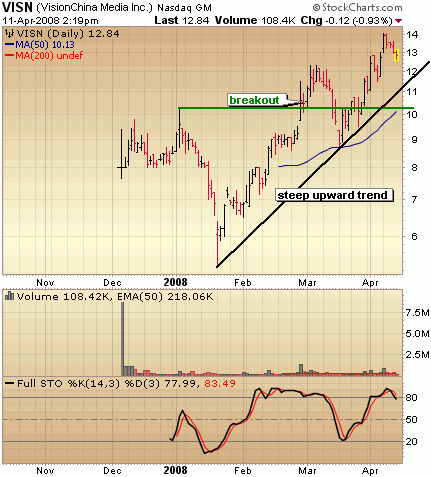 Put Kirby (KEX) on the radar as well.  It's pulling back in a healthy manner after soaring to new all time highs with big volume.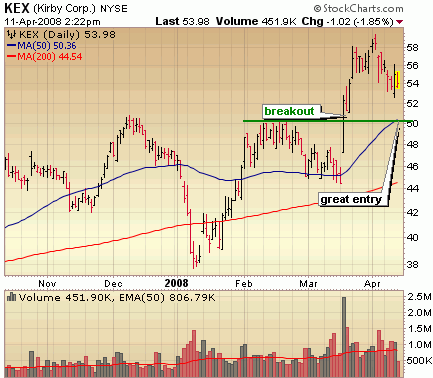 Digital Ally (DGLY) is one of the more obscure of the bunch and it didn't hit my radar until it moved off the 50 day moving average yesterday with big volume.  The company posted its first profitable year in 2007 and has been showing huge growth in recent quarters.  Add to that great margins and ROE and you have the ingredients for a big winner.  It has yet to break out.  Set your alerts!
From MSN:
Digital Ally, Inc. produces digital video imaging and storage products for use in law enforcement and security applications. Its products include in-car digital video rear view mirror and a digital video flashlight. These products make self-contained video and audio recordings onto flash memory cards that are incorporated into the body of the digital video rear view mirror and the flashlight. It sells its products to law enforcement agencies and other security organizations and for consumer and commercial applications through direct sales and third-party distributors.
For more on Digital Ally, there is a good write up over at Seeking Alpha.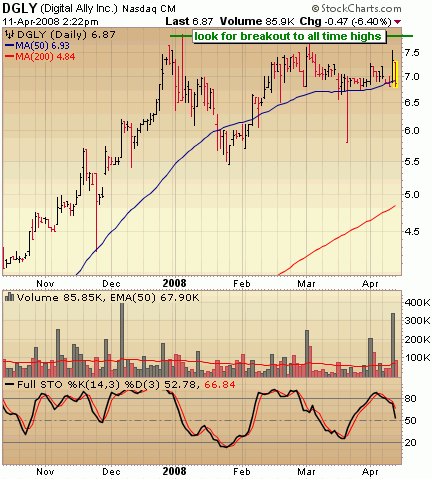 I think oil is overdone in the short term, so look for a healthy pull back in Forest Oil to the breakout point around 52 as possible entry point.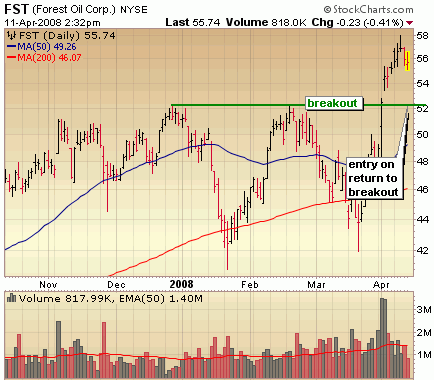 The IPO Tracker alerted me to a breakout in SandRidge Energy (SD) on Wednesday, allowing me to put on quick swing trade for a nice profit.  I still like it long term, but think it needs to digest gains a bit.  One of the better oil plays out there at least from a technical perspective.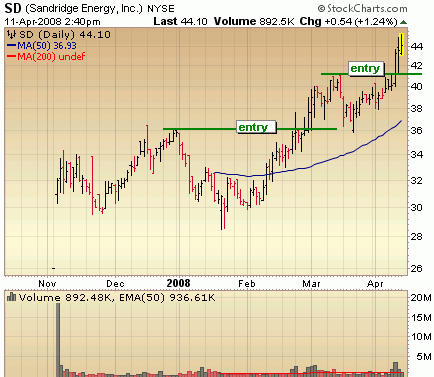 Last but not least is Zoll Medical (ZOLL).  Not quite as bullish as the rest with quite a bit of overhead resistance up to 36, but one of the safer plays.  It's currently trading around its 52 week high and recently broke out from a base.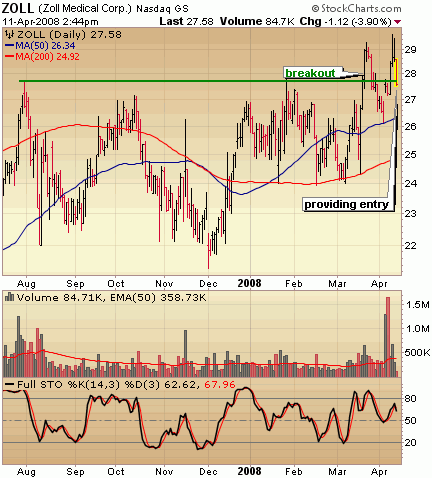 This is one of many powerful screens that the Breakout Tracker offers.  Get it along with the IPO and ETF Tracker with the darn cheap Silver service today.