The highly touted, the much anticipated and overly hyped Visa IPO is set to debut tomorrow under the ticker symbol "V". It priced tonight above the expected range of $37 – 42 at $44/share. Not much of a surprise there. I get more emails regarding the Visa IPO then I have total in the 4 years of running this site. Everyone one wants to know when and how they can get a piece of this action, some that don't have a broker and have never traded a stock in their life. Does that tell you about the demand in this thing? It's overboard.
I prefer IPO's that lurk behind the scenes and double while nobody is watching.. By the time the masses are interested you're out with big gains. It's how the game works. I don't like the Visa IPO out of the gates tomorrow for this simple reason. Everyone talks about how well Mastercard (MA) did after it's IPO, but nobody ever mentions that Mastercard (MA) had a fraction of the hype that Visa did and actually traded sideways for two months after its IPO before breaking out in late summer of 06 for a tremendous run.
Don't get me wrong. I think over time Visa will produce outstanding returns, but jumping in out of the gates tomorrow for fear of "missing out" is a big mistake.
There are other "off the radar" IPO's that will produce far greater returns than the Visa IPO over the 6 months and I'm willing to bet a steak dinner on it. Here's the bet. Of the list of IPO's below that are showing the greatest demand over the past 30 days, I'm willing to bet that the average return of 8 of those will outperform Visa over the next 6 months. It's game on for the first person to take the bet in the comments section below.
This is a snapshot of the IPO Tracker here at SelfInvestors.com which shows IPO's with highest DI score over the past 30 days. DI is a proprietary indicator I use to measure the demand in a stock using price and volume. It's a database of only the highest rated IPO's over the past 18 months or so in terms of fundamentals (earnings/sales growth, ROE, margins, management ownership, debt/equity).
I"m currently offering a no obligation 30 day free pass to the tracker for those that join the new IPO community, which you can join below the banner above if you'd like. I'm working hard to create the #1 private, moderated community exclusive to the best IPOs. For more on the IPO Tracker, you might like to have a look at a new video demo I put together a few nights ago. It's what I like to call low fi production but hey it gets the job done. I'm thinking of adding cheesy music from 80's movies in my next videos so enjoy the barebones version while it lasts.
AND with that I present to you the top 15 IPO's showing positively, absolutely, earth shattering demand over the past 30 days. Most of these are off the radar and I can assure you nobody will ever email me asking how then can get in.. and that's just the way I like it.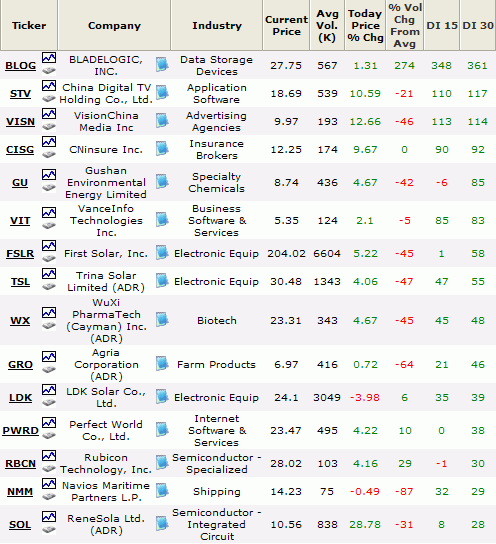 Now I choose my Great 8 (in equal parts) to beat the return of the Visa IPO.
OK scratch BLOG it was bought out by BMC. Next. Ok STV. Now we're getting somewhere. I'm buying hand over fist between 17.50 and 20 with a stop out level below 15. Big move up after earnings last week and looks ready to go again. This is bottom dwellers land down here but the accumulations signals more down days then up over the next few months. I'll put it in my list of 8 to outperform the Visa IPO over the next 6 months.
Another China display advertiser VISN, but this one is going up unlike FMCN. Risky but technically looks good. Broke out at the end of February and pulling back to that area with a bounce off the 50 day moving average. I'll add it to the list of Great 8 to outperform the Visa IPO.
Insurance? Yuck. Don't like insurance. Insurance stocks are for Buffet aficionados. .. but CISG is interesting. Might include it.
Gushan Environmental – Chinese, Biodiesel, Environment, Energy, IPO. What's not to like? Ok, well maybe the earnings aren't the greatest in recent quarters.. I can't take them all. I'm already taking STV and VISN in my Great 8. GU Out.
I'll make a long story short – taking all solar plays in my Great 8. LDK, TSL, SOL and FSLR. I'll even throw Rubicon Technologies (RBCN), a play in the LED space to complete the "green" play picture and round out my Great 8 to beat the performance of the Visa IPO.
So here's the bet one last time. The 8 IPO's that I'll take from this list (STV, VISN, CISG, LDK, TSL, SOL, FSLR, RBCN) will on average beat the performance of the Visa IPO over the next 6 months. You don't think so? Chime in and let's put a steak dinner on the line.
Disclaimer: I don't yet own any of the positions mentioned above, but soon, very soon.