Several weeks ago on December 7th, I first wrote that the home builder stocks appeared to be close to a bottom, but that they weren't quite out of the woods yet (based on the continued downtrend of the home builder ETF's and the lack of insider buying). There is also the lingering danger of news of a home builder bankruptcy at some point which could temporarily derail the entire industry.
With home builders rallying recently I thought it would be a good time to provide another update on the industry to get a feel for the proximity to a bottom. I do think that the home builders continue to show signs of a bottom and the action in these names since I wrote that first report is one of increasingly healthy technical action. Let's have a look again at the home builders within the framework of the first update which looked at the characteristics of a bottom – rallying on bad news, insider buying, capitulation, broken downtrends.. anything else I may have missed? Ah of course.. sentiment! I think that's a good start.
In early December I would have placed the odds of a home builder bottom at about 50/50, but with the Fed slashing rates and institutions clearly putting money to work in this space, I'll up those odds to 70/30. However, as you'll see below, that does not mean it's time to jump into the home builders right here. I'm personally shorting them on a short term basis due to overbought conditions and signs of distribution.
1. Rallying On Bad News
When the worst scenarios are priced in, bottoming stocks begin rallying on bad news and we have certainly been seeing this in the home builders over the past several weeks. At the top, analysts increasingly high expectations make it difficult for the company to beat leading to a sell off. At the bottom, increasingly lowered expectations creates a situation where a stock rallies on any glimmer of hope. That's what we're beginning to see.
– Meritage Homes (MTH) beat lowered expectations and rallied 25% yesterday just hours after the CEO said, "This has been the most difficult year we've experienced in homebuilding in more than 25 years, and we currently expect 2008 will also be challenging,"
– On Jan 24th Lennar (LEN) beat no expectations from analysts and despite posting big losses, the stock rose. More dismal comments from another CEO: "As we look ahead to 2008, we are not expecting market conditions to improve, and perhaps might continue to decline in the near term. Nevertheless, the strength of our balance sheet, bolstered by the cash generated through our fourth quarter strategic moves, will keep us well positioned to weather these turbulent times. Additionally, our management focus on right-sizing our business, revising our product offering and reducing construction costs, together with our restated land positions that reflect current market conditions, will provide the springboard from which we will rebuild margins once the market does stabilize."
– Ryland (RYL) reported Jan 23rd and beat estimates, rallying a bit before ending the day in the red. The stock ran up big the day before so most likely profit taking after the morning run up.
It hasn't been easy for all home builders to beat lowered expectations though..
– On Jan 8th, KB Homes (KBH) posted a loss of 773 million which was much worse than expected and the stock closed down with heavy volume to a new 7 year low.
"As we enter 2008, we see no indication that markets are stabilizing," said KB's chief executive, Jeff Mezger
– Yesterday Centex (CTX) missed by a wide margin racking up nearly a billion dollars in losses with the write downs. The stock finished down 10% with heavy volume. Said CEO Timothy Eller, "Looking ahead we expect economic conditions to soften and foreclosures to increase and with that pressure on house prices may continue."
– Tonight Pulte Homes (PHM)is down another 5% after hours after losing 8% in the regular session following disappointing results. "The challenging market conditions that plagued the homebuilding industry for the first nine months of 2007 worsened in the fourth quarter," Pulte's president and chief executive, Richard J. Dugas Jr., said in a statement. "Levels of new and existing home inventory remain elevated, buyer demand for new homes continues to be weak, and mortgage availability is still a problem for many prospective homebuyers."
2. Insider Buying
In my last report I mentioned the large insider purchase by NVR CEO Dwight Schar, but no insider buying of that magnitude has been occurring in any of the other homebuilders yet. Just a bit of insider buying at KB Homes (KBH) and Pulte Homes (PHM) recently. More insider buying of home builder stocks can provide a bit more confidence that the bottom is in. They aren't going to be buying if they think their company might be in danger of bankruptcy and that is still a very real possibility.
According to Byron Douglass, an analyst at Credit Derivatives Research, the most exposed are Standard Pacific, Hovnanian, Beazer and Meritage. All are among the top 15 publicly listed US homebuilders. He calculates the probability of bankruptcy at 79% for Standard Pacific (SPF), 70% for Hovanian (HOV), 68% for Beazer Homes (BZH) and 66% for Meritage Homes (MTG). Just yesterday, Tousa (TOUSA) was the largest home builder to declare bankruptcy.
Technicals
Perhaps the most important part of the bottom forming process is the technical picture which of course includes a surge in price and volume to the upside. Specifically, I like to see capitulation (a take out of multi year lows followed by heavy buying and a close at the highs on a daily or weekly basis) and down trends broken.
3. Capitulation
I haven't seen obvious capitulation across the home builders, but a few have shown capitulation. Big capitulation isn't necessary for a bottom, it's just another clue to look for. The important thing is that buy volume spikes on up days and sell volume diminishes on down down days which has been the general trend over the past several weeks.
4. Broken Down Trends
I mentioned in the last report that home builders weren't quite out of the woods because the iShares Home Construction ETF (ITB) and the SPDR Homebuilders ETF (XHB) had yet to clear down trends, even though some of the individual builders had. That is no longer the case as both ITB and XHB have cleared down trends with heavy volume. Below is a look at the daily chart of XHB. You can see it cleared the downtrend as homebuilders have soared 30 – 40% in just the past couple weeks. However, as indicated by stochastics and MACD, they are now very much overbought in the short term and the big distribution today sets them up for digestion of recent gains. Look for a pull back of 10 – 20% from here.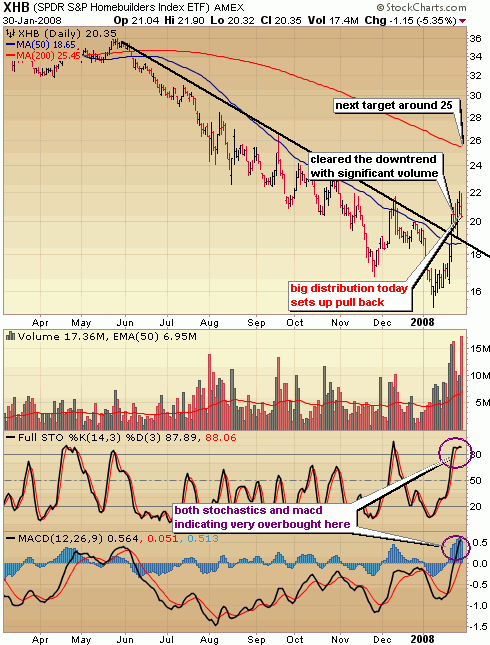 Sentiment
I didn't discuss sentiment in my first report, but wanted to touch on it here. On Jan 14th, DailyWealth wrote a very timely report on the negative sentiment in the housing industry titled "What the Worst Case Scenario for Housing Looks Like" Sentiment is important because the masses are usually wrong. In the article, Tom Dyson hammers home the point well.
"Right now, everyone worries about housing. Sure, home prices could keep falling, and the pain could last for another few years. But you won't make any money betting on that scenario, even if it does happen. Why? Because everyone's already worried about it. And their fears are already priced into the market.
To give you an example, yesterday I read a research report from a Wall Street investment bank. The analysts performed a worst-case analysis on eight major U.S. homebuilder stocks.
These analysts assumed that the value of homebuilders' raw undeveloped land had fallen 75%. Then they cropped new home sales prices by 40% and assumed inventory would sell at 75% slower rate than it's selling for right now.
In other words, with the stroke of a keypad, they sent the homebuilding business back to the Middle Ages.
Here's the interesting thing: Having made these awful assumptions, they calculated book value for the eight major homebuilding stocks. Book value is the capital invested in the business that belongs to shareholders. It's what you have left when you add up all the assets and subtract all the liabilities.
The research found that, right now, these homebuilding stocks were trading around par with their worst-case scenario book values. Homebuilder stocks usually trade at a premium to book value. In other words, current homebuilder share prices are trading at a discount to the worst-case scenario."

I Stand By My #1 Homebuilder Play – NVR Inc (NVR)
I continue to believe that NVR will provide far greater returns than any of the other home builders. In my last report I mentioned that "It (NVR) takes the top spot because of the big CEO insider buying, best technicals and the fact that the company has remained profitable in every quarter during this housing crash and is expected to remain so. CEO Dwight Schar has also been through a meltdown before, nearly bankrupting NVR several years ago. I'm sure he's smart enough to learn from those mistakes.
On Tuesday, amid hundreds of millions of losses from its competitors, NVR reported yet another profitable quarter. David Zelman, president of Zelman and Associates, a research firm in New York, said NVR has had success in the down market by building to order and optioning most of its land rather buying it. That strategy, he said, has "proven through the down cycle why it makes sense." However, the company is also warning of continued tough times ahead. "These sizable declines in new order units and prices will continue to have a significant negative impact on revenues and gross margins in the coming quarters."
On the technical front I mentioned on Dec 7th, "If I can get shares around 400, you can be sure I'll be buying, but quite frankly I don't think NVR sees those levels again. Depending on what the overall market is doing, what the housing market is doing and the individual action in NVR I'd be looking at shares in the 450 – 500 range. Note the potential double bottom base outlined in blue? If in fact this is a valid double bottom base, 400 is the bottom and we can expect a run to 850 – 950 within the next year.
I am now further convinced that NVR is carving out a double bottom base with a long term bottom at 400, with a run to 850 likely by sometime later this year or early next year. Let's take another look at the technicals. Just like all home builders though, it's overbought in the short term and needs to digest recent gains. Just as I thought it wouldn't see 400 again, I doubt it will hit 450 following this recent surge. A pull back to around 500 with light selling volume might offer a chance to scale into a long term position.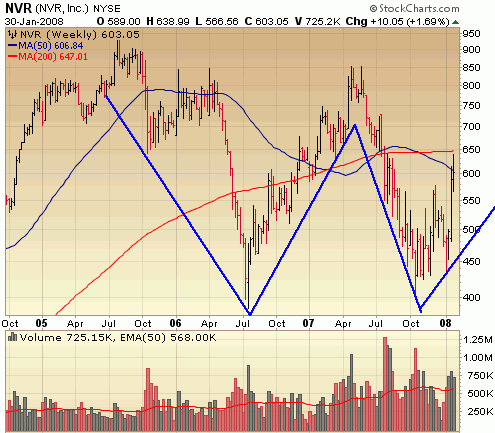 The Bottom Line
While much of the bad news is priced into the home builders and the Fed induced surge has led to increasingly healthy technicals, bankruptcy risk of some high profile names remains and builders are very much overbought at these levels. If I'm a long term holder, I'm waiting for the Fed rate cut euphoria to wear off and scaling into a long term position on a pull back of 10 – 20% from current levels. NVR continues to be my top play in this industry, but buying one of the home builder ETF's (XHB or ITB) is probably the better option for the risk averse investor.
Disclaimer: I am personally shorting the home builders in the short term to take advantage of overbought conditions.