I just had to delay the after market report to get this post written.. the market report will come later tonight.
It was mighty amusing to see the sell ratings on Thornburg Mortgage from Citigroup and AG Edwards today. Oh OK, right got it. Now I should no longer hold TMA and dump it. Great work and great timing guys. Or how about the sell rating on Countrywide Financial (CFC) out of Merrill Lynch this morning from Kenneth Bruce just days after he called the issues with CFC media sensationalization. Again, fantastic timing. Remind me again exactly what you guys get paid the big bucks for? Apparently we are seeing the same thing in the lender business as we saw back in the internet bubble days. Despite the lawsuits and the promises, the jail sentences… nothing has really changed. It's the same game. Either these analysts are asleep at the wheel, incredibly incompetent in getting to the truth about the company's they are paid to cover or flat out frauds. Harry Domash wrote up an excellent piece today highlighting the downfall of American Home Mortgage (AHM) and the analyst upgrades/dowgrades along the way. I'm sure there are other excellent articles out there from fellow bloggers that I have missed or just haven't had the time to read so if anyone reading this has a link I'd be happy to post it here. Below are histories of upgrades and downgrades for 3 lenders with plummeting stock prices (AHM has filed for bankruptcy). It's very interesting to see when the upgrades/downgrades were made.
Below is the history for Thornburg Mortgage (TMA). What stands out to me here is the hold rating from Deustche Securities, the buy rating from AG Edwards and the sector perform rating from RBC Capital Markets at the end of April. These guys must take long vacations because it wasn't until Aug 7th AFTER the stock plunged 30% over several days that Deutsche Securities was the first to downgraded the stock. Three days later AG Edwards downgraded the stock from Buy to Hold! As if they were just reacting to news that we all receive on these companies and not acting on the best inside research money can buy, the sell rating didn't come until a full week later. That was today. The stock had already plunged another 60% before that sell rating came. Job well done.
Upgrade/Downgrade History from Briefing.com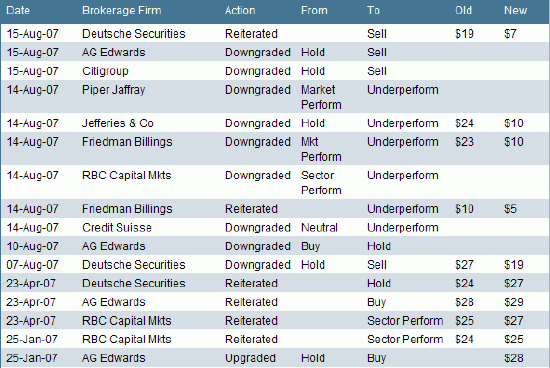 This is a fun one. .. American Home Mortgage (AHM). A lender that has filed for bankruptcy with investors heeding the advice of these brokers losing everything. How about that, our good friend AG Edward showing up again! This time recommending a buy on a company that would just a few months later declare bankruptcy. Notice they last issue a downgrade to hold on May 1st, then nothing more… maintaining a hold all the way into bankruptcy. Sorry for singling you out AG Edwards, but you guys are really on a roll here!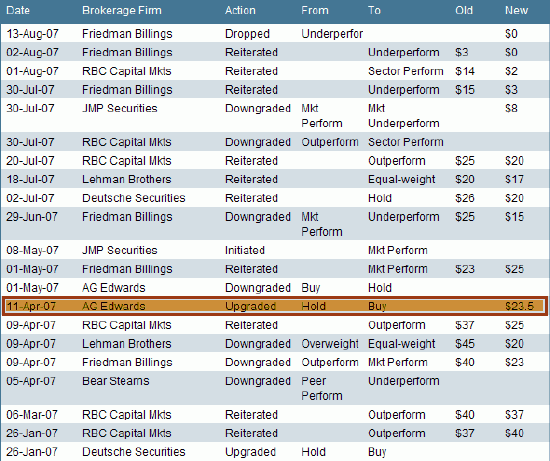 This has to be my favorite upgrade of them all. Keefe Bruyette upgraded Countrywide just over 2 weeks ago after the company missed estimates and guided lower. Not only that, but the CEO of Countrywide made the following comments in the conference call:
"During the quarter, softening home prices continued to affect many areas of the country and delinquencies and defaults continued to rise across all mortgage product categories as a result. Due to these adverse conditions, the Company incurred increased credit-related costs in the quarter, primarily related to its investments in prime home equity loans."
"We are experiencing home price depreciation almost like never before, with the exception of the Great Depression"
This sounds like a reason to upgrade to me!