The government is pouring billions into the technology. Cisco CEO John Chambers said it will be bigger than the internet. The opportunity for investors is indeed BIG and now there's a diversified way to play "it" – the smart grid revolution.
There are quite a few useless and overlapping ETF's out there and this industry is in need of a major shakeout, but every once in awhile a great ETF comes along and the First Trust/Clean Edge Smart Grid ETF (GRID) is no exception. The ETF aims to track the NASDAQ OMX Clean Edge Smart Grid Infrastructure Index and is a modified market cap weighted index which includes companies that are primarily engaged in all components of the smart grid – from the meters, to the network, to energy storage to software.
The fund aims to focus primarily on smart grid plays by weighting those companies deemed as smart grid "pure plays" much more (80%) than big companies with a fraction of their business in the smart grid arena (weighted at 20%). For example, a company like Itron (ITRI) is going to comprise a much larger portion of the ETF than a GE would.
:: >> Get More Analysis On the Smart Grid ETF (GRID) Here
The ETF is comprised of 29 companies, but here are the top 10 holdings. Companies must have a minimum float adjusted market capitalization of $100 million and a 3 month avg daily dollar trading volume of $500K.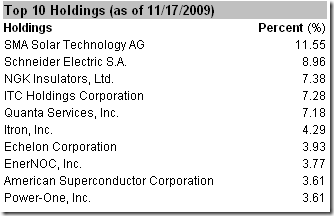 Other smart grid plays included are AEIS, COMV, DGII, ESE, BGC, GE, ITLN, ITC, MTZ, PIKE, SATC, VMI, WCC, ABB, CBE, JST, TLVT, SI, NGG
Here's a prospectus of the Smart Grid ETF (GRID)
After just two days of trading, the Smart Grid ETF (GRID) offers plenty of liquidity, trading 200K shares today. I'd imagine liquidity will continue to improve rapidly in the coming months for you short term traders out there.