Have home builders bottomed? That's the million dollar question and a question that has popped up frequently recently following a two week 20 – 30% surge in shares of home builders. I'll tip toe half way out the limb and say yes and no. When I'm looking for a bottom in anything, whether it be an entire sector or individual stock I'm looking at several key criteria:
FUNDAMENTALS
1. Is There a Rally On Bad News?

When a true bottom has been put in, more bad news doesn't move the stock because it's already been priced in. Traders begin to trade on relief rather than fear. It becomes, "oh, that wasn't nearly as bad as we thought it would be". Case in point was the Toll Brothers (TOL) earnings report this morning.
Toll Brothers reported the first quarterly loss in 21 years (if you include the write down of 315 million) and the CEO responds by saying "fiscal 2007 was the most challenging of the 40 years that Toll Brothers has been in business" but the stock rallied more than 15% today as the company whooped analyst expectations of a .77/share loss (which typically don't include write downs) by posting a .72/share profit (excluding the write downs).
At the top, analysts increasingly high expectations make it difficult for the company to beat leading to a sell off. At the bottom, increasingly lowered expectations creates a situation where a stock rallies on any glimmer of hope.
2. Insider Begin Buying
Nobody knows their company better than the guys at the top, unless of course you're Kenneth Lay and you don't know anything. When insiders feel their company is a great value they begin buying shares. Insider selling can occur for a variety of reasons so it's difficult to place much importance on it, but insider buying particularly in large companies can often indicate a bottom in the stock price.
Case in point, NVR Inc (NVR) CEO Dwight Schar. He recently picked up 50 million worth of shares in his company. That's still less then what he paid for his home in 2005, which at the time was the most expensive house in US history (Revlon founder Ron Perleman's home), but 50 million isn't the kind of bet you make in your company if you feel your shares are going much lower. Not a bad investment. He's up over 25% on the position in just one month.
At KB Homes (KBH) two VP's dabbled a bit and picked up about $93K worth of their company stock in late October/early November.
TECHNICALS
3. Capitulation in Stock Chart
Not all bottoms will show capitulation but it's certainly another clue that I look for. It's characterized by a day or full week in which the stock closes in the upper half of a long range with volume well above average. I haven't seen this kind of action in the home builder stocks yet, so it's certainly possible that we retest the lows again with one last bout of big panic selling, followed by a stampede of buyers.
4. Broken Downward Trend in Stock Chart
The best of breed home builders (see below) broke out of shorter term downward trends today but still face tough resistance. Let's have a look.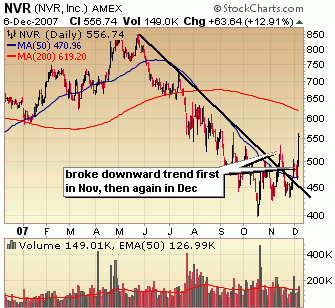 NVR Inc (NVR) is my top home builder play because it's technically the strongest and fundamentally the ONLY home builder to remain profitable every quarter through the housing meltdown. It was the first to break a downward trend back in November and busted through that resistance again in December. Like all home builders, it's currently overbought in the short term but if I'm a long term buyer I'm looking to add shares between 450 – 500. I"ll have a more detailed technical analysis below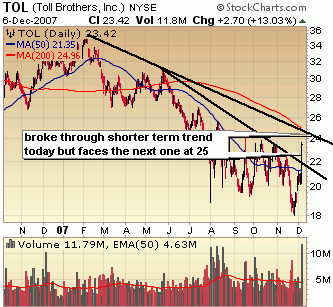 Toll Brothers (TOL) broke through its downward trend line today but doesn't have far to go before testing the longer term trend line. It's up nearly 30% in the past couple weeks so I would not be chasing it. I won't be looking to add shares until it pulls back to 20 or lower. I rank TOL #2 right behind NVR and will highlight the technicals in more depth below.
I don't feature the charts of DR Horton (DHI) and Centex (CTX) in this report, but they also broke out of downward trends today but are too extended in the short term.
The Bottom Line
The home builders have surged 20 – 30% in recent days on news of the government subprime freeze and anticipation of another Fed rate cut, resulting in a breakout above shorter term downward trend lines in the best of breed home builders. Technically, they are overbought in the short term, but there is some room to run to the upside, perhaps another 10 – 15%. The best opportunities will come on light volume pull backs from current levels. While there are some indications that a long term bottom is close, we're not out of the woods just yet and the likelihood is very high that we'll retest the lows of the home builders (anywhere from 20 – 30% below current levels), particularly if the bankruptcy of a major home builder such as Beazer Homes (BZH) becomes more likely. If I were a long term buy and holder (which I'm not), this is an area I'd begin significantly accumulating shares of the best of breed home builders such as NVR Inc (NVR) and Toll Brothers (TOL). Remember the stock price precedes a turn in the fundamentals. That is, well before the home builders turn it around financially, a bottom will have been put in place.
As another indication that the home builders aren't out of the woods just yet, both the SPDR Homebuilders ETF (XHB) and the Ishares Home Construction ETF (ITB) have not cleared downward trends.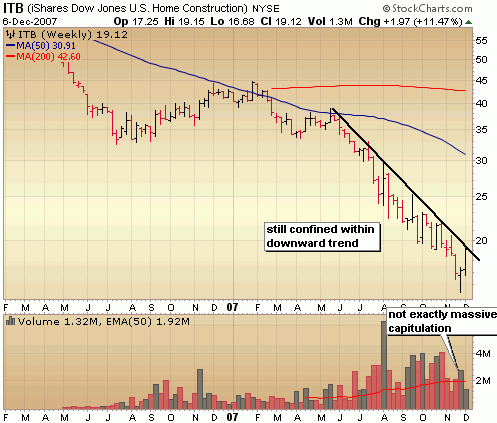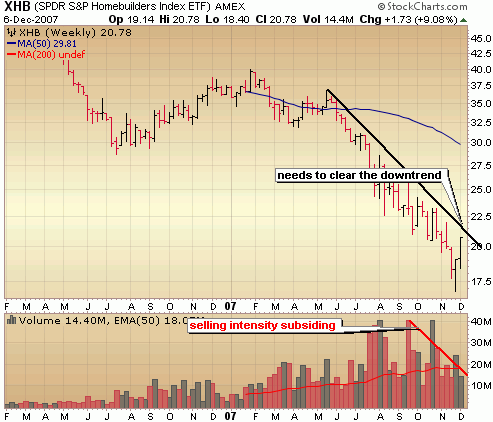 Best of Breed
Based on a combination of fundamentals and technicals I've come up with a Top 6 list of best of breed home builders:
1. NVR Inc (NVR):

It takes the top spot because of the big CEO insider buying, best technicals and the fact that the company has remained profitable in every quarter during this housing crash and is expected to remain so. CEO Dwight Schar has also been through a meltdown before, nearly bankrupting NVR several years ago. I'm sure he's smart enough to learn from those mistakes. The second time around, Schar avoided the risky land investments and went with an approach called optioning where the builder makes a small down payment for the option of purchasing the plot of land in the future. Only when the contract is signed on the sale does NVR purchase the land and build the home. It's a common practice among home builders now, but apparently NVR has done a better job of not over purchasing land.
The chart below provides a look at a longer term weekly chart to get a better sense of where it's been and where it might be going. A few things stand out to me. One being the big support at level at 400, an area it has bounced from not only recently but in the summer in 2006 as well as summer of 2004. If I can get shares around 400, you can be sure I'll be buying, but quite frankly I don't think NVR sees those levels again. Depending on what the overall market is doing, what the housing market is doing and the individual action in NVR I'd be looking at shares in the 450 – 500 range. Note the potential double bottom base outlined in blue? If in fact this is a valid double bottom base, 400 is the bottom and we can expect a run to 850 – 950 within the next year.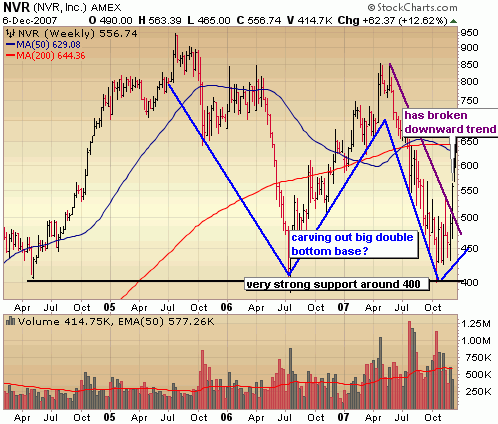 2. Toll Brothers (TOL)

Like NVR, TOL recently tested an important level of support at 19 (a level it found support at back in 2004 as well) and bounced. Yes, there is some room to run to the upside but I wouldn't be chasing it. Once the euphoria of the subprime rate freeze and looming Fed rate cuts wears off, home builders should pull back and offer a much better entry. Just how much is anyone's guess, but keep an eye on on resistance above from the long downward trend line (in blue) and support at the bottom around 19. Price should continue to get squeezed between those two points over the next several weeks creating a big triangle formation. This will be the moment of truth for TOL. A break up out this formation indicates the likelihood of a long term bottom while a break down below 19 indicates further deterioration ahead, possibly to the next level of support around 16.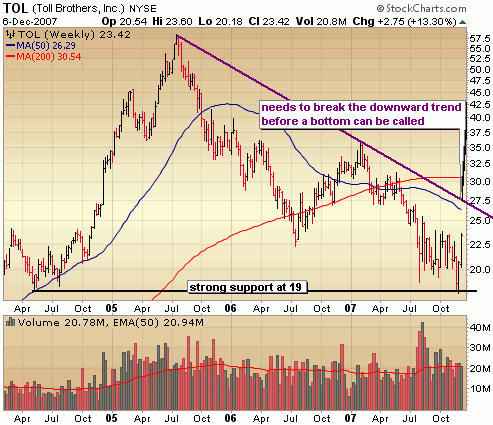 Best of the Rest……
3. DR Horton (DHI)
4. Centex (CTX)
5. Ryland Group (RYL)
6. KB Homes (KBH)
That concludes my initial report on a potential home builder bottom. What I plan to do is provide an update report every month for the next 6 months, so stay tuned!
Disclaimer: I currently hold no positions in any of the individual home builder stocks mentioned above or the two ETF's.