I've talked quite a bit about the head and shoulders top formations in the Dow and S&P500 in recent weeks and it looks like we might get confirmation of those topping formations soon, based on early trading action today. What that means is that there is going to be an abundance of ways to play this market on the short side and I have one to keep an eye on today. The company is Green Mountain Coffee Roasters (GMCR).
The maker of single cup coffee brewers has been on a tear in the last couple years with the stock vaulting from 8 to 60 in a little less than three years. Earnings increased 60% in 2007, 48% last year and is expected to increase 81% this year. Yes, the company isn't showing any signs that the growth is slowing with 4 straight quarters of accelerating sales growth. While this is a company that should continue to do well as more people save money by brewing coffee at home, it's well overdue for a correction and the pieces are in place for a healthy downward move.
For one, you have deteriorating health in the overall market. Since 70% of stocks move with the overall market, the wind may be at the back of GMCR to move lower .. and soon. You also have a recent 3/2 split in the stock which creates a need for additional demand to keep the stock afloat. Finally, you have a head and shoulders top formation forming on the daily chart, following a climax run. Let's take a look at the chart.
The climax run in May/June was highlighted with the huge gap up at the end of April and typically leads to the end of a long term move. From there, you want to see some kind of topping formation and we have that with the head and shoulders formation. The left shoulder was formed throughout May, the head formed in the first couple weeks in June and now we have the formation of the right shoulder. A confirmation of this top would be confirmed with a break below the neck line around 51. If that move takes place, I'm anticipating a drop to the first level of support, which would be a filling of the gap around 37.
::: >>> Click Here For Additional GMCR Analysis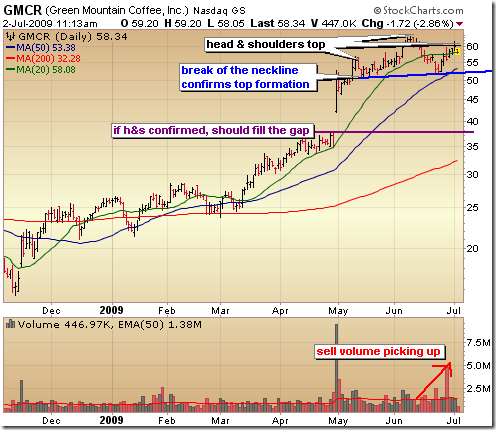 Full disclosure: I currently hold a small short position in GMCR and looking to add more.