It's been a terrific year for IPO's here in 2010 with a surge in high quality companies coming to market. A couple months ago I highlighted the Top 5 IPO's, all of which are up significantly since being highlighted. I'll probably do another Top 5 list in a month or so to include IPO's since that report was written, but for now I wanted to highlight one IPO that I found to be very compelling – Sodastream (SODA).

Sodastream is an Israeli company that sells home carbonation and flavoring systems for.. you guessed it! Homemade soda and sparkling water. While I haven't used the product myself, the idea is brilliant and rides the wave of three important trends – an increasing awareness of the need for better nutrition, a cleaner environment and saving money (in the long run). Three simple, but powerful trends.
The company offers over 30 flavors to choose from including the traditional flavors such as cola, to diet options, to mixers such as tonic and even an energy drink formula. As for nutrition, the company claims its all natural flavors contain a fraction of the calories, carbs, sugar and sodium that Pepsi and Coke do. Environmentally, you have less packaging, cans & bottles and less pollution caused by the transportation of these products. Americans spend BILLIONS on bottled water alone! That stat truly disgusts me especially when you consider that some of the bottled water is more polluted than tap water! That's a topic for another day..
===> Click Here For Your FREE Daily Sodastream Technical Analysis Report
It all looks great in theory, but is the company selling these things? The answer is a resounding yes… to the tune of nearly $200 million in revenue over the past year. Keep in mind 80% of that currently comes from Europe. The company just began ramping up its distribution here in the States this summer and now sells the product at Sears, Macy's, Bloomingdales, Williams Sonoma, Bed Bath & Beyond, BJ's and other retailers. It will be mighty interesting to see how well the company did last quarter when it reports this Monday.
I think there can be some comparisons made to Green Mountain Coffee Roasters (GMCR) which saw its stock skyrocket in the past few years. The company makes the single cup coffee brewers and relies on recurring revenue from the K cup packets similar to the way Sodastream will rely on recurring revenue from the CO2 tanks and flavoring. However, people have been brewing their own coffee for many years. Will they begin carbonating their own sodas and sparkling waters? That is the billion dollar question and we may find out over the next few years. For now, the company is experiencing rapid growth and the technical action is very bullish.
When I'm looking at trading IPO's, I always let the stock trade for at least a few weeks and look for the first consolidation period. That could be in the form of a flat base, cup with handle base or in this case a bullish triangle. The stock broke out of this bullish formation just above $32 and hasn't looked back. That provided the 1st, most ideal entry point, but it offered another entry point on a break above the high around $38. In my opinion, it's currently too extended for a proper entry point, but would provide a good 2nd chance opportunity on a return to $38 or lower.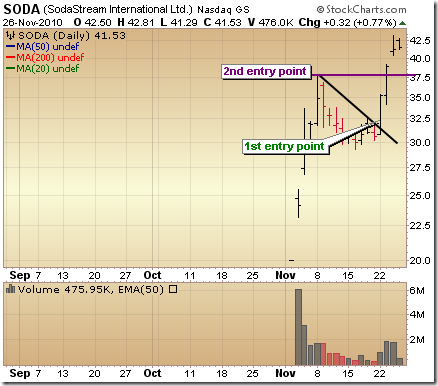 Disclosure: I have no position in SODA.. unfortunately.