It's been awhile since I provide an update on gold, so I thought now would be a good time to take another look at the yellow stuff.  In my last report on gold the GLD was inching closer to $130 and I thought that level would present a very difficult level and be an area where gold would stage a correction. 
A few things to point out.  For one, gold didn't really correct, but rather digested overbought conditions with more of a sideways move (actually head and shoulders pattern) and remains in a fairly tight range above the $130 level, so certainly gold has held its own up here and could be poised for a move to the next major resistance level up around the $150 level (another 10% or so from current levels).
Before a move like that can take place, gold will need to move out of a possible head and shoulders top formation which is still a possibility, but hasn't been confirmed.  We'll need a couple healthy moves down in gold for that to happen.  Adam Hewison of Ino.com is basically on the same page.  He just did a quick video highlighting the current action in gold and will conduct a webinar tomorrow.  Watch the video and sign up for the webinar by clicking on the video image below.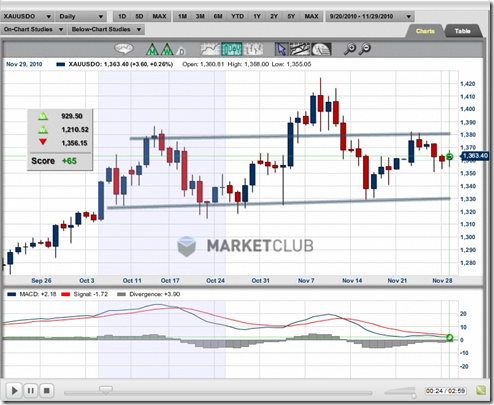 To round out this update on gold, I wanted to bring in the analysis of David Banister of MarketTrendForecast.com who uses Elliot Wave Theory.  Despite the variance in the tools used to analyst the current price action in gold, I think we can all agree… the price action in gold remains in a strong uptrend.  While there are vulnerabilities that could play out, the odds favor a move to the next level of resistance which I mentioned as around the $150 level for the GLD.  David sees resistance around the same area and targets a move in price of gold to the $1480 – $1525 level.
Get David's full analysis here