Today, as it has been for much of the past few weeks, the market seemed to go up not because of any great news, but a lack of any major bad news that could jolt the market into believing that the credit/subprime concerns ARE NOT just an aberration. For much of the day, we meandered sideways but after the Fed released its minutes a surge of buying hit sending the indices to a sizable gain. It seems these days that the market will never go down and with uninspiring volume behind these moves it's enough of a reason to play mr. contrarian and avoid getting overly aggressive up here. There continues to be outstanding short term trading opportunities, particularly in the China plays but to be initiating positions for the long haul here is probably a mistake. The retail numbers come out Friday and we ramp up earnings next week. With the Nasdaq nearing some resistance at the upper level of a wide channel, the market may be soon be looking for excuses to take profits. Now may be a good time to find excuses to take profits of your own.
::: Major Indices Performance – The Numbers :::
(Note: volume averages are based on the average over the past 50 days)
Data as of 4:00EST – End of Day October 9th 2007
Nasdaq: UP .59% today with volume 2% BELOW average
Nasdaq ETF (QQQQ) UP .43%, volume 31% BELOW average
Dow: UP .87%, with volume 19% BELOW the average
Dow ETF (DIA): UP .93%, volume 47% BELOW the average
S&P ETF (SPY): UP .94%, volume 55% BELOW the average
Russell Small Cap ETF (IWM): UP .81%, volume 48% BELOW the average
::: SelflInvestors Leading Stocks :::
The Self Investors Leading Stocks Index is comprised of stocks in the Breakout Tracker, which is a database of the fastest growing companies near a breakout or having already broken out of a base. Leading stocks led the way today but as with the general market, there was no volume conviction behind the move.
Summary:
* Advancers led Decliners 242 to 105
* Advancers were up an average of 2.17% today, with volume 2% BELOW average
* Decliners were down an average of 1.05% with volume 14% BELOW average
* The total SI Leading Stocks Index was UP 1.22% today with volume 5% BELOW average
::: Where's the Money Flowing :::
Many investing websites provide leading industries based on price performance alone. However, without accompanying volume levels, this can sometimes be misleading. The only way that I know of to gauge industry/sector strength WITH volume levels is through the analysis of ETF's. A couple years ago this was not possible, but as more traders/investors use ETF's they become a much better tool for gauging the health of the market and seeing where the money is flowing (or not flowing). Using the proprietary SelfInvestors Demand Indicator score which measures price and volume movements, I'm able to quickly see which sectors/industries are seeing the greatest inflows of cash. For a detailed look at how I go about gauging sector/industry strength please see the following post: http://selfinvestors.com/si/industry_tracking/
* Current Leading Sectors/Industries (over last 30 trading days):
Gold, Broker/Dealers, Internet Infrastructure, Gold Miners, Agriculture, Software

* Current Lagging Sectors/Industries (over last 30 trading days):
Homebuilders
* Today's Market Moving Industries/Sectors (UP):
Nanotech, Nuclear Energy, Energy, Real Estate, Oil & Gas Services, Internet Infrastructure
* Today's Market Moving Industries/Sectors (DOWN):
None
::: Stocks :::
The stocks section will be an area where I highlight one stock selected from a group of stocks moving up with volume well above average and most likely breaking out of a base or consolidation. Today's stock is Innerworkings (INWK), another highly rated IPO that debuted in the 4th quarter last year and broke out of a long base to a new all time high today.
ABOUT:
InnerWorkings, Inc. is a provider of print procurement solutions to corporate clients in the United States. The Company creates bid process to procure, purchase and deliver printed products as part of an outsourced enterprise solution and in individual transactions. Its applications and database, PPM4, creates an integrated solution that stores, analyzes and tracks the production capabilities of its supplier network, as well as quote and price data for each bid the Company receives and print job it executes. Through its network of over 5,000 suppliers, the Company offers a range of print, fulfillment and logistics services. It procures printed products for clients across a range of industries, such as advertising, consumer products, publishing and retail. In October 2006, the Company acquired Applied Graphics, Inc., a provider of print management and print-on-demand services. In March 2007, it acquired Spectrum Printing Systems. In July 2007, the Company acquired Brown+Partners, Inc.
FUNDAMENTALS:
Innerworkings (INWK) is in the publishing business so it doesn't receive some of the hype that the hot China or solar IPO's receive, but it is one of the highest rated IPO's that I track with a fundamental score of 27/30. The small company has been profitable since 2003 and has been roughly doubling profits ever since. Growth is expected to moderate a bit, but the company is still expected to post earnings growth of more than 50% this year and next. If the company has a negative, it's the low margin printing business that it works in with net margins around 5%. Return on Equity is an excellent 24% so management is strong and they own a good portion of their company with 25% ownership. Both key characteristics of a big winner.
TECHNICAL:
Below is a look at the weekly chart and shows a long cup with handle base (handle a bit steep) with a subsequent breakout around 17.50 from the large handle. This offered the first chance at an entry in the stock. It wasn't long before the stock tackled all time highs around 19 which it cleared today with above average volume and remains in a buyable entry for a 2nd entry point. You should be paying particular attention to top IPO's breaking out of bases with volume and INWK is no exception. The only thing I'd like to see is more volume come into the stock. It's been a little weak during the rise over the past couple weeks. Considering the overall market is overbought and looking tired, the best course of action is to probably wait it out on INWK and get on a pullback to the first entry around 17.50 if it does so with light selling volume.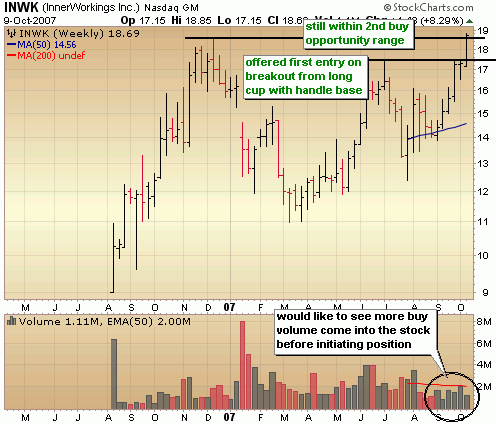 SELFINVESTORS RATING: With a total score of 51/60 (27/30 for fundamentals, 24/30 for technical), Innerworkings (INWK) is a very good SelfInvestors breakout candidate.
Full Disclosure/Disclaimer: The stock of the day is by no means a buy recommendation. Please do your own research and make a personal decision based on your own tolerance for risk. I currently do not own a position in INWK.