The following was a note sent to my premium members tonight and wanted to pass it along to my blog readers:
It's safe to say the bulls have run out of gas. It's always interesting how the market begins to show signs of deterioration in certain leaders and sectors before the big plunge takes place. Over the past couple weeks, we witnessed the China plays begin to crack.. it began with the high flying water plays, moved to the solar names and today it was the wind energy stocks. In hindsight, I regret a bit not taking more off the table in the China names. I thought increasing the hedge with FXP would be enough.. not quite enough. I still have a longer term view of these stocks and they will all benefit big time as China pours billions into green energy. However, I may look to ease up if I can get some decent bounces back to resistance levels.
As you know, I have been increasing overall short exposure in the past week as those distribution days began to pile up. Today was the fourth in less than two weeks which culminated in the Dow taking out key support levels of the 50 day moving average and the upward trend off the March lows. Today was the most significant day of selling I've seen since the end of October. I certainly thought the market was topping out then, so I could certainly be wrong again, but when I see this kind of distribution I will play accordingly and adjust if I'm proven wrong. Along with the Dow taking out the 50 day moving average with heavy volume, the S&P has taken out an important level of support of the upward trend line off the July lows. It still has support of its 50 day moving average, but downward momentum would indicate that it probably wants to test that 1100 level in the coming days.
So, in light of the moves of the past two days, the strategy of the portfolio has shifted and that is to get more aggressive with short exposure into the rallies.
You can see the Dow taking out minor support around 10500 today and major support of the 50 day moving average with heavy sell volume. More Dow analysis here.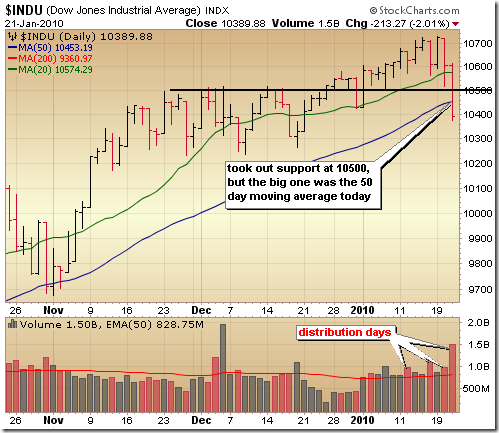 The S&P is still holding its 50 day moving average but probably not for long considering today's downside momentum. More analysis of the S&P here.