One question I get often from members of Self Investors is "What's a good site for virtual stock trading to test strategies or practice stock trading in general?" So, I thought I'd highlight my favorite solution.
The one I typically recommend is the Virtual Stock Exchange from MarketWatch, which offers a very realistic setup. You can short stocks, set limit orders, use margin and stop orders so it's quite realistic. It allows you to trade stocks, funds and ETFs on the NYSE, Nasdaq and AMEX.
Here's a screenshot of a sample account I set up. Below this section you'll see news related to your stocks and notice other areas such as performance, orders and transaction history.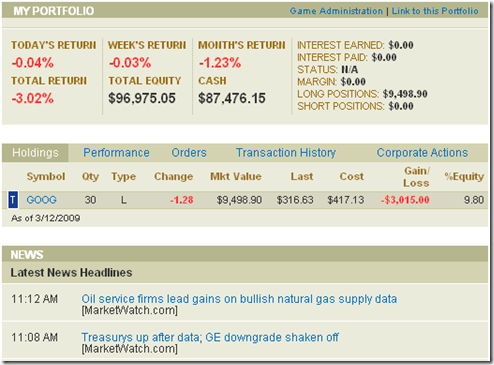 There are many public and private virtual stock trading games or you can create your own. In the portfolio settings area you can adjust the defaults on trade commissions, interest, starting cash and other variables to meet the requirements of that particular game.

Some other details:
– no after hours trading
– default commission rate is $29.95 but this can be adjusted in settings area (who pays a $30 commission these days?)
– cash will earn money market rates
– portfolios are ranked in real time
– orders are generally confirmed within 20 minutes
Do you have a favorite? Please mention it in the comments area below.