I have a confession to make. I've been taking Google profits. I first began highlighting Google to my premium members in 2006 and profiled it here in May of 2007 at 483.52 as the stock showed signs of an imminent breakout. That was then, this is now.. and times have certainly changed. For one thing, the market is on the verge of / in the beginning stages of a bear market (I'll have more on this in a post tomorrow morning). In this scenario, no stocks are immune to a sale, no matter how good the company. Google is no exception.
On November 16th, 2007 I added to my long term Google position as the stock pulled back to the 50 day moving average, following a big fall run to nearly $750. In an email to members, I said:
"I'm adding to my long term Google position here as it tests the 50 day moving average. I still believe the market is going to get a decent run very soon and that a leading stock like Google will benefit greatly. Also, remember that Nov, Dec and Jan are quite often great months for the stock market and techs in particular. I think that the greatest downside risk from here with Google is 600 and that only happens if we get another spike down to test the August lows of the major indices. I'm confortable adding another $10K (less than 4% of portfolio) to my long term core position here at 623.26."
At the time of the trade off the 50 day moving average, I hadn't really planned on trading it for a quick gain but given the uncertainty of the overall market and the quick bounce off support, I decided to lock in the trade for a quick profit. On Nov 29th, 2007 I wrote to members:
"I added to my Google position after it was demolished and hitting the 50 day moving average just over a week ago, bringing my total portfolio position to a bit under 15% of the portfolio. I believe the stock has come too far too fast and really needs to spend more time repairing the technical damage of early November. I could see some kind of double bottom base forming with decent potential of retesting the low around 615 again. I want to lock in this quick 12% profit on the 10K I took about a week ago and will consider adding to the position again once this base gets sorted out and I have a better idea of just how far the overall market will correct. I'm out at 701.23."
Roughly 3 weeks later on Dec 18th, Google would test the 50 day moving average once again, dipping well below this key support level intraday, but closing above support and keeping me in one of my long term positions (initiated in late 2006). For awhile, it looked as if Google was going to break out of a bullish triangle formation (as you'll see in the chart below). However, on January 3rd, Google dipped below a 5 month upward trend line but managed to close just about on this line. It wasn't until the next day that the move was confirmed and the stock sold off fairly hard, taking out this trend line and support of the 50 day moving average with conviction. It was on this day I decided to lock in gains on a Google position I had been holding for 14 months. I sent the following note to my premium members on Jan 4th 2007:
"I mentioned yesterday that core positions Mastercard and Google were not exempt from a potential sale. Given the current market environment, nothing is immune to a sale. Yesterday, Google bounced back and closed near the high of the day, so I gave it another chance to get back above the 50 day moving average today. However, it's taking out today's lows, yesterday's lows and support of a 5 month trend line. So, I'm taking one of my $10K core positions off the table today at 673.25. and locking in a nearly 40% profit."
The action over the past few days indicates short term deterioration in Google, but longer term I still like Google very much. Nothing has fundamentally changed for Google at this point and I would expect them to report another outstanding quarter in a couple weeks. What I see happening is some sort of double bottom base formation with the first leg down low at 616.02, the middle "W" peak at 724.80 and the second leg down in the base at 616.02 or lower. Typically a stock will take out the lows of that first leg down, to shake out a few more sellers, so a test of around 600 is highly likely. This is an area where the 200 day moving average will approach in a few weeks as well so potentially a good spot to consider adding shares. I'm still holding one core position with a 60% profit that I got into in October of 2006. I probably will NEVER unload this position.. but then again I should never say never!
Here's a look at the 6 month chart of Google with highlights of where I added that last November position, then sold two positions.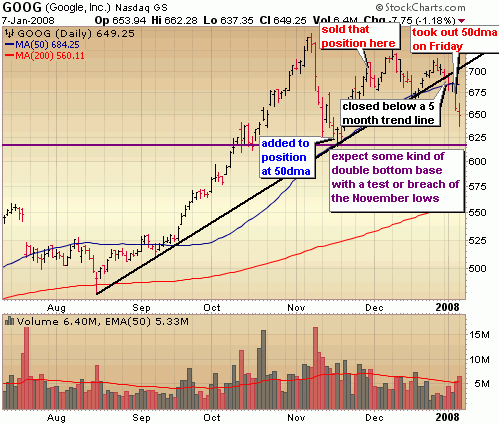 Disclaimer: I still own a position in Google and looking to add more, probably sometime after earnings.