By Guest Author: Robert Williams, PhD, P.E.
The thrust of this industry perspective is to identify system supplier companies active in oil/gas process plants and to highlight their future earnings and charts for potential investment by our readers. The companies listed below are all international conglomerates that also provide process control systems for all the other industries as well. Therefore, their potential earnings are more dependent on the global economy rather than the oil/gas industry in particular.
Refineries, petro-chemical plants and all oil/gas processing facilities are extremely hazardous, i.e. explosive, processes because of the petroleum products and the very high pressures and temperatures involved in these processes. To this extent the industry has established stringent standards as to the safety of instrumented systems in order to protect personnel, environment and the process plant. In order to provide normal process control a distributed process control system (DCS) is engineered to provide central control of each process unit within the plant, e.g. refinery. In order to provide overall emergency shutdown of each process unit and the complete plant a safety instrumented system (SIS) is engineered for each unit. The SIS is a physically separate system from the DCS and generally utilizes dual or triple modular redundancy techniques to provide the extra reliability and availability in the event of process upset condition arising. Another process protection layer is provided by utilizing relief valves to relieve any high pressures that may arise during an upset condition.
The complete plant or refinery consists of many process units and is monitored and controlled from a central control room. The plant overall control system includes the following:
Level 1 – Local instruments (pressure, temperature, etc.), control valves, analyzers, etc.
Level 2 – Supervisory control network including operator stations displays, etc.
Level 3 – Advanced control, process optimization and data historian computer network.
Level 4 – Business network with connection to Corporate IT network.
Process control systems are generally redundant thereby eliminating nuisance trips whereas safety systems are triple redundant with two out of three voting so that single failure modes will not shutdown the plant.
There are several global companies that have acquired and co-joined together to provide international conglomerates that provide a total capability for both process and safety control systems. These companies are listed below along with their stock symbols and each company name is hyperlinked to their corporate websites.
– ABB ABB (NYSE); ABB (Stockholm); ABBN (Zurich)
– Emerson EMR (NYSE)
– Honeywell HON (NYSE)
– Invensys ISYS (London); IVNYY (US ADR)
– Siemens SIE (Frankfurt); SI (US ADR)
– Yokogawa 6841 (Tokyo)
Some of these companies also provide heavy electrical equipment for global utilities such as power lines, transformers, switchgear, motors, etc. They also provide systems for the pharmaceutical, chemical, water/wastewater, food and beverage, pulp and paper, iron and steel and mining industries.
Due to their installed equipment and systems bases some or all these companies have formed special alliances with their customers to the extent that only their systems will be utilized at all global locations. That is, their systems are sole sourced based on global purchase agreements which establishes fixed pricing. This provides customer cost efficiency for the initial capital investments and global uniformity for design, engineering, commissioning, operations, maintenance and training.
ABB Ltd (ABB) is a global provider of power and automation technologies to utility and industry customers. The Company's focus on power transmission, distribution and power-plant automation serves electric, gas and water utilities, as well as industrial and commercial customers. ABB also delivers automation systems that measure, control, protect and optimize plant applications across a range of industries. Its business comprises five divisions: Power Products, Power Systems, Automation Products, Process Automation and Robotics. Its Power Products and Power Systems divisions operate in the power market. Its Automation Products, Process Automation and Robotics divisions operate in the automation market

Emerson Electric Co. (EMR) is a global technology company. The Company is engaged in designing, designing and supplying product technology and delivering engineering services in a range of industrial, commercial and consumer markets globally. The Company operates in five business segments: Process Management, providing measurement, control and diagnostic capabilities for automated industrial processes producing items, such as foods, fuels, medicines and power; Industrial Automation, bringing integrated manufacturing solutions to industries globally; Network Power, providing power and environmental conditioning to telecommunication systems, data networks and critical business applications; Climate Technologies, enhancing household and commercial comfort, as well as food safety and energy efficiency through air-conditioning and refrigeration technology, and Appliance and Tools, providing designed motors for a range of applications, appliances and integrated appliance solutions.

Honeywell International Inc. (HON) is a diversified technology and manufacturing company, serving customers globally with aerospace products and services, control, sensing and security technologies for buildings, homes and industry, turbochargers, automotive products, specialty chemicals, electronic and advanced materials, and process technology for refining and petrochemicals and energy efficient products and solutions for homes, business and transportation. The Company operates in four business segments: aerospace, automation and control solutions, specialty materials, and transportation systems.

Invensys PLC is a global technology and controls company that focuses on industrial automation, rail transportation and controls. Operating in more than 60 countries worldwide, it caters to a range of industries, which include oil and gas, power and utilities, chemicals and rail systems, healthcare, data communications, and discrete and hybrid manufacturing sectors. The Company also provides components, systems and services to the heating management, commercial refrigeration, residential safety and automotive industries, electronic and electro-mechanical systems and components to appliance and related industries. Its customers include ExxonMobil, BP, Electrolux and Bombardier.

Siemens AG (SI) is engaged in electronics and electrical engineering. During the fiscal year ended September 30, 2008 (fiscal 2008), the Company reorganized its operations. It operates in six segments: Industry, Energy, Healthcare, Siemens IT Solutions, Services and Siemens Financial Services (SFS), and Equity Investments. Industry, Energy and Healthcare segments are reported along with 14 divisions, which comprise the Divisions Industry Automation, Drive Technologies, Building Technologies, Osram, Industry Solutions and Mobility belonging to the Industry Sector, the divisions Fossil Power Generation, Renewable Energy, Oil & Gas, Power Transmission and Power Distribution belonging to the Energy Sector, and the Divisions Imaging & Information Technology (IT), Workflow & Solutions and Diagnostics belonging to the Healthcare Sector.

Yokogawa Electric Corporation is a Japan-based manufacturing company mainly engaged in the manufacture and sale of measurement, control and information equipment. The Company is engaged in the development, manufacture, sale, leasing, engineering and maintenance of measurement, control and information equipment, the manufacture and sale of security-related equipment, the development and sale of software, as well as the provision of information processing service, in addition to real estate business and manpower dispatching business. As of March 31, 2008, the Company has 90 subsidiaries and 10 associated companies in Japan, Southeast Asia, the United States, Middle East and China. YOKOGAWA ELEC ORD does not have a corresponding ADR and is not held in the portfolio of any U.S.-traded mutual fund or ETF.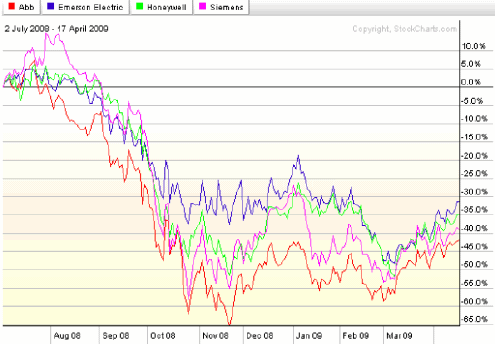 This is who, what, where, why and how but not the when. The "when" is up to each individual trader. At this time the author has no investments in any of these companies.
Author Bio
Robert is a valued contributor to Self Investors and provides great insight into the oil industry. He has 40 years of experience which includes oil/gas engineering in crude oil/petroleum products/natural gas, refining, processing and pipelines on all continents, except South America and Antarctica, from Alaska and Australia pipelines to S.E. Asia offshore, from UK North Sea to Los Angeles fuel truck racks and from Romanian pipelines to West Africa FPSO.