On Friday the market managed to put an immediate end to the weakness of the previous day, hold at key short term support levels and stage a big rally as commodities continued to plunge and the dollar continued to strengthen.  In a bit of a divergence of bullish trends, the indices did get through some important resistance levels but did so on curiously weak volume for such a big price move.
I'll get right into the charts of the indices.
A new floor is developing in the Nasdaq at the 50 day moving average around 2350.  It closed above this area on Wednesday, pulled back on lighter volume Thursday to test this new found support area, then staged the massive rally on Friday to confirm Wednesday's move.  So, 2350 is the new line in the sand for the Nasdaq.  A close below this level with heavy volume would indicate significant weakness and put the Nasdaq back in danger of testing the lows of this correction.
The Nasdaq is now up more than 10% in one month as it approaches big, bad resistance of the 200 day moving.  If it does test that level, and I think there is a very good chance that it will, it's time to lock in profits and get very conservative.  This is still a bear market until proven otherwise (a break of the bear downtrend lines) and this rally is a bit too steep to be sustainable.  A pull back to 2350, with some sideways action for a few weeks would be a very bullish way to digest this run up.  If you are just now putting money to work in this rally, I think that's a very big mistake.  The easy money has been made, so it's time to start thinking about locking in some profits and soon start thinking about hedging with some short positions.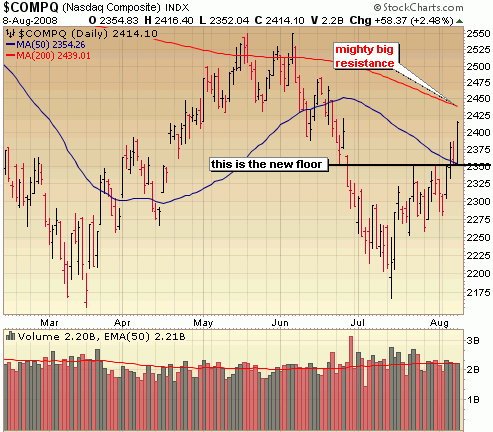 As long as the S&P continues to make higher lows, it's tough to take on a bearish position but there are some concerns up here.  Yes the S&P cleared a key level of resistance on Friday above the July and Aug highs but still faces that 50 day moving average at 1300.  In addition, take a look at the volume levels in the past two trading days as the S&P negotiates tough resistance.  Thursday was a day of distribution and the rally on Friday was really out of the blue in my opinion.  It came just one day after significant distribution AND there really wasn't much volume behind it.
If the S&P can follow through next week and clear that level of resistance and then hold there, that would be very bullish for this market. At the very least we need to continue making higher lows.  So continue to play a bit on the bullish side until we stop making higher lows, but the farther up we push get increasingly conservative (that means locking in some of those profits!)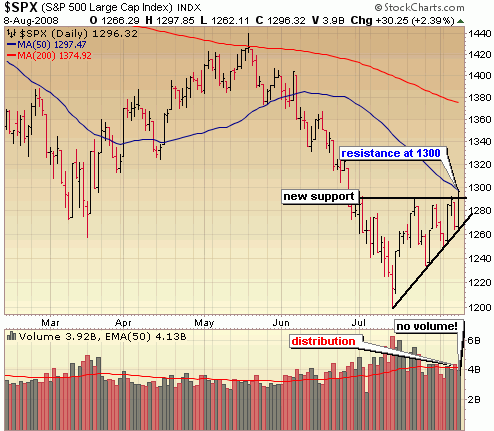 The Dow also cleared the July and Aug highs and took it one step further – it cleared the 50 day moving average to reclaim some important levels of support.  There is still some congestion in the 11800 area though, so I'd like to see it close above this level by the end of the next week to confirm the bullishness of this move.  Again, the volume of the past couple trading days is a concern, so we'll need to reverse that trend next week with higher volume buying and lower volume selling.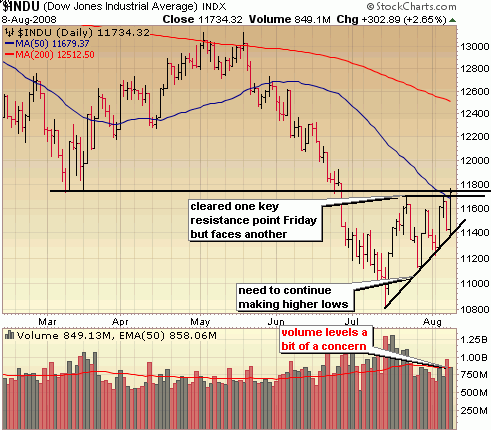 The easy money of this rally has been made, so any further spikes up from here will offer an opportunity to lock in some profit and/or initiate a few short positions.  If you're not a shorter term trader it's going to best to just lock in much of your profits and sit tight in cash for a few weeks.
::: Model Portfolio :::
** This section will now appear as a separate report about every other Wednesday.
The Self Investors Model Portolio wrapped up 2006 with a gain of 27.6%, 2007 with a gain of 30.2% and is more than 10% ahead of the S&P in a very difficult 2008.  This is a REAL portfolio with position sizing and features annualized returns of 24%.
Would you like to receive buy and sell alerts in the Model Portfolio within minutes (NEW! now get them via instant messaging in near real time) of each transaction?  You can receive these along with ALL of the tracking tools and video reports with the very popular Gold membership.  Don't delay, get started today and join me for many more highly profitable months here at SelfInvestors.com.
::: Best/Worst Performers :::
– Top 10 Performing Industries For the Week –
1. Long Term Care Facilities: 22.05%
2. Apparel Clothing:  12.70%
3. Jewelry Stores: 12.65%
4. Department Stores: 12.35%
5. Textile Manufacturing: 12.05%
6. Resorts & Casinos: 11.80%
7. Major Airlines:  11.30%
8. Semis – Memory Chips: 10.50%
9. General Contractors: 10.50%
10. Home Improvement Stores: 10.30%
– Top 10 Worst Performing Industries For the Week –
1. Silver: -15.80%
2. Mortgage Investment: -13.00%
3. Internet Service Providers: -11.85%
4. Agricultural Chemicals: -11.25%
5. Gold: -11.15%
6. Nonmetallic Mineral Mining: -10.20%
7. Oil & Gas Drilling & Exploration: -8.95%
8. Heavy Construction: -8.65%
9. Oil & Gas Equipment & Services: -7.45%
10. Air Services – Other: -7.45%
– Top 5 Best Performing ETFs For the Week –
1. SPDR Homebuilders (XHB) 8.95%
2. HLDRS Semis (SMH) 7.60%
3. SPDR Consumer Discretionary (XLY) 7.55%
4. HLDRS Retail (RTH) 7.35%
5. iShares Semis (IGW) 6.90%
– Worst 5 Performing ETF's –
1. Market Vectors Gold Miners (GDX) -14.40%
2. Asa Gold (ASA) -13.65%
3. iShares Silver (SLV) -12.10%
4. US Nat Gas (UNG) -11.50%
5. Market Vectors Russia (RSX) -10.60%
::: Upcoming Economic Reports (8/11/2008- 8/15/2008) :::
Monday:        None
Tuesday:       Trade Balance, Treasury Budget
Wednesday:  Export/Import Prices, Retail Sales, Business Inventories Crude Inventories
Thursday:      CPI, Initial Claims
Friday:           Capacity Utilization, Industrial Production
::: Earnings I'm Watching This Week :::
Monday: AirMedia (AMCN), American Oriental Bioengineering (AOB), Fuel Tech (FTEK), Inner Workings (INWK), LDK Solar (LDK), Petrobras (PBR), VAALCO Energy (EGY)
Tuesday: 3SBIO (SSRX), Energy Recovery (ERII), GigaMedia (GIGM), The Hospitalist Company (IPCM), Ituran Location & Control (ITRN), JA Solar (JASO), Watson Wyatt Worldwide (WW)
Wednesday: Canadian Solar (CSIQ), Clean Energy Fuels (CLNE), Ctrip.com (CTRP), Netease.com (NTES), WuxiPharma (WX)
Thursday: Flowers Foods (FLO), Gafisa (GFA), Ricks Cabaret (RICK), Sociedad (SQM), VanceInfo Tech (VIT), Wal Mart (WMT)
Friday: ShengaTech (SDTH)