Heading into the holiday Thanksgiving week, the market finds itself somewhat stabilized and consolidating around some key support levels (see below). Expect to see trading around these levels at least until normal trading volumes resume the following week. What I've found is that the trading in the first few days after a holiday break are very revealing into what we can expect for the following few weeks.
Overall, last week was a positive for bulls which kicked it off with a big price surge on Tuesday, but one that lacked significant conviction. Essentially it was just a big dead cat bounce. It didn't follow through as expected but the following action should be viewed as bullish considering selling volume subsided in the face of doomsday comments and negative news out of Goldman Sachs, Wells Fargo and Barclays. Remember at market bottoms, traders begin to shrug off news and focus on the positives. I don't think we're 100% there just yet and we still need a confirmation day before I'm going to get a bit more aggressive on the long side, but given the technical action has improved and that we are heading into a historically bullish period for the stock market, the odds are good for a tradeable rally here for the next few weeks up to key resistance levels of the 50 day moving averages.
The Nasdaq is holding right at key support of its 200 day moving average and looking ready to rally up to resistance around the 50 day moving average. If the Nasdaq does bust through the 200 dma, it's likely headed down to test the next level of support around 2500. I think we retrace some of these of November losses before that becomes a possibility.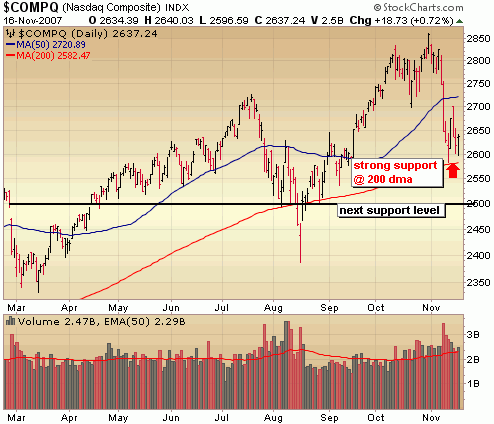 The Dow is consolidating around support of 13000. It really needs to get back above resistance of the 200 day moving average and hold there very soon. The long it bounces around here, the greater the chance it ultimately fails and tests the August lows.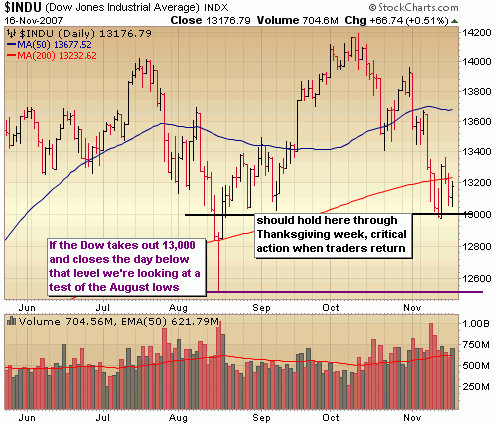 The S&P is stabilizing around key support of 1430 – 1440 but has much farther to go before even getting to that 200 day moving average and will have a much more difficult time of staging a big rally to get to the 50 day moving average. Notice on Wednesday it busted through the 200 day but turned tail at the end of the day and closed below this resistance level. The area around 1490 – 1500 would be an area where the S&P would most likely fail following any holiday rally.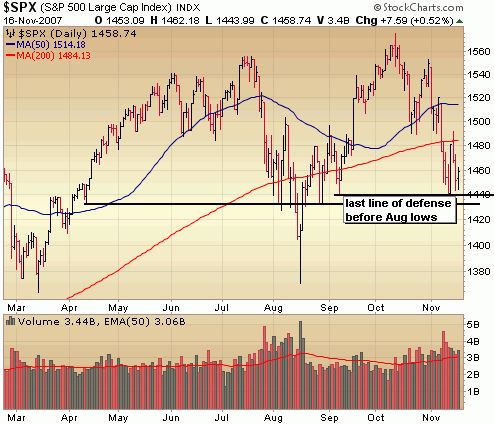 NOTE: There will be not Weekly Market report next Sunday.
::: Model Portfolio Update :::
Following the first weekly loss in many last week, the portfolio bounced back a bit this week with a small gain of .7%, bringing the year to date return to 24.6%. I continue to tread very carefully in this volatile, unpredictable market and continue to sit on pile of cash (55%). However, the market is showing signs of improving at least on a short term basis and we are heading into a period that is typically strong so I'm going to begin adding just a bit more exposure to the long side down here. I added to a long term core position last week and did the same this week, in addition to initiating a new Quick Strike Profit play which is up nearly 9% in just a few days. I am looking to add two more positions next week, another core holding (long term play) most likely in tech as well as another QSP play (PGI might be a good candidate, a stock recently highlighted as Stock Trade of the Day). There are currently no short positions in the portfolio.
Would you like to follow along with the SelfInvestors Model Portfolio each day with buy and sell alerts within minutes of the transaction? It's part of my Gold service which also includes all of the tracking tools (breakout stocks, IPO's and ETF's and unlimited personal support).
::: Best/Worst Performers :::
– Top 10 Performing Industries For the Week –
1. Long Distance Carriers: 10.80%
2. Major Airlines: 9.35%
3. Recreational Goods: 9.30%
4. Internet Service Providers: 5.85%
5. Grocery Stores: 5.75%
6. Computer Based Systems: 5.05%
7. Regional Airlines: 4.75%
8. Dairy Products: 4.25%
9. Home Improvement Stores: 3.90%
10. Home Furnishings & Fixtures: 3.80%
– Top 10 Worst Performing Industries For the Week –
1. Mortgage Investment: -9.90%
2. Gold: -8.70%
3. Rental & Leasing Services: -7.00%
4. Silver: -6.55%
5. Heavy Construction: -6.30%
6. Industrial Equipment Wholesale: -6.25%
7. Industrial Metals & Minerals: -5.55%
8. Semiconductor – Memory Chips: -5.55%
9. Trucks & Other Vehicles: -5.30%
10. Trucking: -5.25%
– Top 5 Best Performing ETFs For the Week –

1. India Fund (IFN) 8.70%
2. Morgan Stanley India (IIF) 8.55%
3. MSCI India (INP) 6.00%
4. HLDRS Broadband (BDH) 4.55%
5. Chile Fund (CH) 3.90%
– Worst 5 Performing ETF's –
1. Thai Fund (TTF) -6.85%
2. Asa Limited (ASA) -6.80%
3. Market Vectors Gold Miners (GDX) -6.70%
4. Ishares Silver (SLV) -6.20%
5. Power Shares Global Clean Energy (PBD) -6.05%
::: IPO's Worth Watching for This Week :::
One very interesting IPO this week. Are we entering another Internet bubble phase? In some regards I believe so and you'll begin to see many of the so called Web 2.0 properties go under within the next year or two, but also keep in mind that the internet has matured greatly since the late 90's and many of these companies are making money and lots of it. CreditCards.com is a company that has been doubling revenues and profits, so the days of internet properties with no profit going public are over. I'm very interested to see how this stock does in the marketplace.
1. CreditCards.com (CCRD) runs a Web site where visitors can sift through about 150 card offerings from more than 20 issuers. Users can sort by interest rate, rewards, cash back, airline credit, and other card criteria; by credit quality (excellent, good, fair); or by issuer. Card issuers pay CreditCards.com a fee based on either card applications or approvals. Trading set to begin on Tuesday.
::: Upcoming Economic Reports (11/19/07 – 11/23/07) :::
Monday: Leading Indicators
Tuesday: Building Permits, Housing Starts, FOMC Minutes
Wednesday: Initial Claims, Crude Inventories
Thursday: None
Friday: None
::: Upcoming Notable Earnings Reports :::
Monday: TransDigm (TDG)
Tuesday: Blue Coat Systems (BCSI), GameStop (GME), Home Inns & Hotels Management (HMIN), China Medical (CMED), Focus Media Holdings (FMCN), Mobile Telesystems (MBT)
Wednesday: Abercrombie & Fitch (ANF), Trina Solar (TSL)
::: In Case You Missed It – SelfInvestors Blog Entries of the Past Week :::
1. Do You Have a Millionaire Mind?
2. Trade of Day – Bullish Triangle Emerges in Premier Global Services (PGI)
3. SalesForce.com (CRM) Surges, China Stocks Still Getting Hit On Earnings
4. Breakout Stocks Review: Capital Preservation Key In Down Market
5. Solar Still Shines – Suntech Power (STP) Surges After Earnings
6. Three S Bio (SSRX) Still Looking Bullish After Earnings
7. This Dead Cat Made of Rubber From China; Stock of Day – Cellcom Israel (CEL)
8. Cramer Has a Credibility Problem
9. Quick Strike Profit Plays Video Review – Entries & Exits
Sorry, but this post is available to Platinum & Gold Members only.