I'm gonna keep it real short this week and stick to the meat and potatoes of the technicals.  After all, it is Father's Day and the US Open is winding down.. :)  Hope you're all enjoying a little BBQ.  The market continued to deteriorate last week with distribution still going on, but this market is due for some kind of short term oversold bounce as indicated by stochastics.  Of course no indicator is perfect by itself and stochastics can remain in oversold territory for quite awhile, but the odds are there for a bit of a spike next week.  However, bears are still in control and outside of some short term trading opportunities on the long side, it's probably best for most people to sit on the sidelines for a bit longer.  Keep an eye out for a rally in the indices to test resistance levels (Nasdaq – 200dma, Dow and S&P – 50 day moving averages).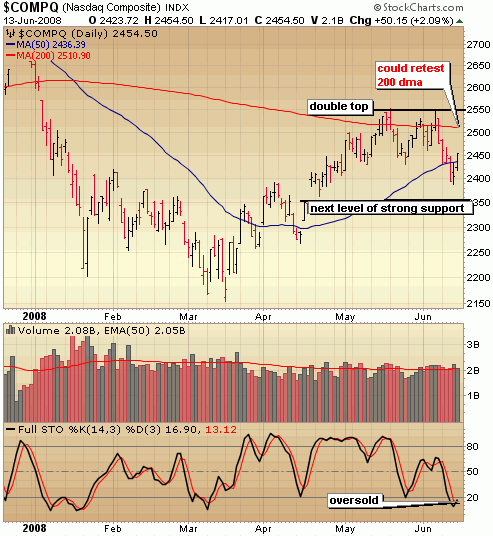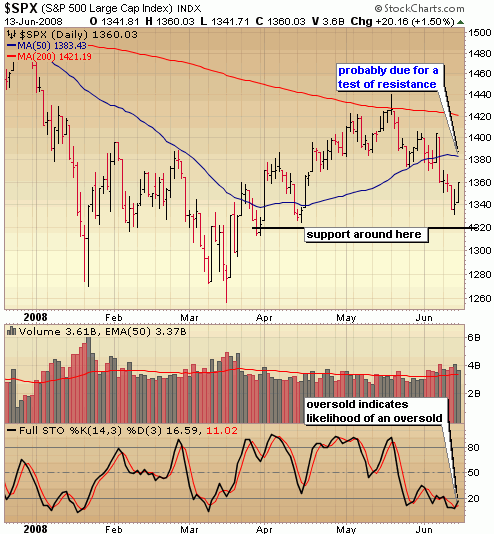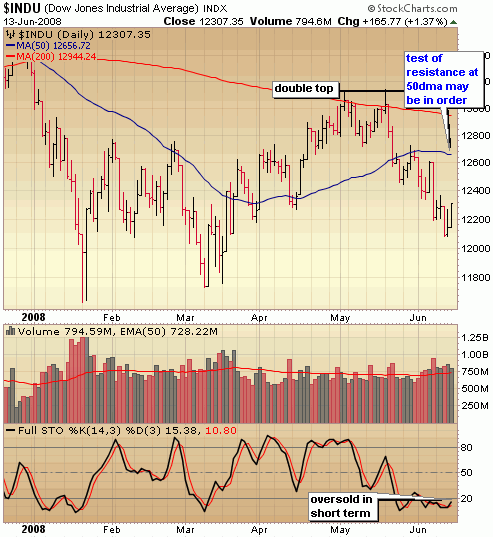 ::: Model Portfolio :::
** This section will now appear as a separate report about every other Wednesday. 
The Self Investors Model Portolio wrapped up 2007 with a 30.2% gain and features annualized returns of 24%.  This is a REAL portfolio with position sizing and NOT the "hypothetical" portfolios you see with many stock trading services.
Would you like to receive buy and sell alerts within minutes (NEW! now get them via instant messaging in near real time) of each transaction in the portfolio?  You can receive these along with ALL of the tracking tools and video reports with the very popular Gold membership.  Don't delay, get started today and join me for many more highly profitable months here at SelfInvestors.com.
::: Best/Worst Performers :::
– Top 10 Performing Industries For the Week –
1. Investment Brokerage: 5.35%
2. Major Airlines: 4.45%
3. Regional Airlines: 4.35%
4. Home Improvement Stores: 3.95%
5. Investment Brokerage: 3.90%
6. Appliances: 3.80%
7. Electronic Stores:  3.80%
8. Education & Training Services: 3.75%
9. Machine Tools & Accessories: 3.75%
10. Security Software & Services: 3.70%
– Top 10 Worst Performing Industries For the Week –
1. Beverages – Soft Drinks: -4.75%
2. Banks – Midwest: -1.75%
3. Farm Products: -1.55%
4. Banks – SE: -1.50%
5. Meat Products: -1.40%
6. Medical Practitioners: -1.35%
7. Beverages- Brewers: -.95%
8. Banks – Pacific: -.85%
9. Banks – Mid Atlantic: -.85%
10. Cigarettes: -.60%
– Top 5 Best Performing ETFs For the Week –
1. Ishares Broker/Dealers (IAI) 5.70% 
2. Japan Small Cap (JOF) 5.60%
3. SPDR  Metals & Mining (XME) 3.70%
4. Ishares Home Construction (ITB) 3.35%
5. HLDRS Semis (SMH) 3.30%
– Worst 5 Performing ETF's –
1. KBW Banking (KRE) -1.90%
2. US Oil Fund (USO) -1.90%
3. Asa Limited Gold (ASA) -1.70%
4. US Natural Gas (UNG)  -1.30%
5. iShares Commodities (GSG) -1.20%
::: Upcoming Economic Reports (6/16/2008- 6/20/2008) :::
Monday:        NY Empire State Index, Net Foreign Purchases
Tuesday:       Building Permits, PPI, Housing Starts, Capacity Utilization, Industrial Production
Wednesday:  Crude Inventories
Thursday:      Initial Claims, Leading Indicators, Philly Fed
Friday:           None
::: Earnings I'm Watching This Week :::
Monday:
Adobe Systems (ADBE), Lehman Bros (LEH), Titan Machinery (TITN)
Tuesday:
Goldman Sachs (GS)
Wednesday:
Casella Waste Systems (CWST), FedEx (FDX), Lindsay Corp (LNN)