It's been a few days since I've featured a trade of the day. I've just been too busy to post much of late but will be getting back into a flurry of posting at the beginning of next week. Today, I'd like to highlight two outstanding looking breakout stocks – one in top rated IPO Qiao Xing Mobile (QXM) and another in Globecomm (GCOM). Both are breaking out with big volume and look poised to move higher from here.
QXM is a top rated IPO here at SelfInvestors.com and if you've been checking out my new IPO portal page, you would have noticed that QXM is one of the highest rated with a fundamental score of 27/30. Today, the stock broke out of a cup with handle base formation with heavy volume, it's first base and breakout since going public back in May.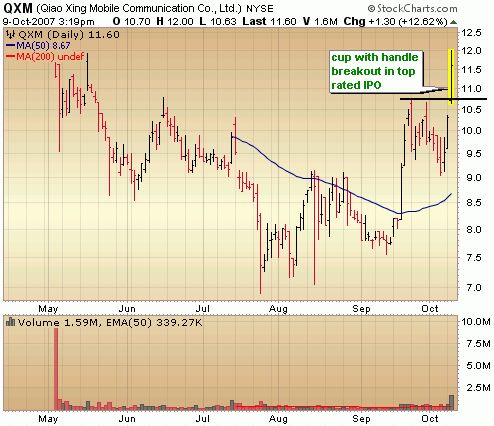 Another great looking breakout today occurred in Globecomm a company with great fundamentals which broke out to a new all time high. Volume is more than double the daily average today.