People have been trying to call a top in the solar energy stocks for months now but the good news just keeps on coming in this sector and it remains white hot.. Now I'm in no way recommending initiating aggressive positions in the leading solar stocks at this point. It's more a situation of a short term trade over the next few weeks or a hold if you've been the names for awhile. These stocks are far too extended for large positions.
Leading solar stocks such as First Solar (FSLR), JA Solar (JASO), Suntech Power (STP), MEMC Materials (WFR) and Solarfun Power Holdings (SOLF) aren't showing any technical deterioration despite massive runs but at some point the music will stop and you better find a chair. With that disclaimer out of the way I'd like to highlight a Solar Trade of the Day.
Despite an amazing run that saw Solarfun (SOLF) nearly triple in just one week, the stock is breaking out of a bullish pennant formation and looks poised for more. Volume wasn't great today, so it could pull back a bit offering a better entry. New support is just above 26.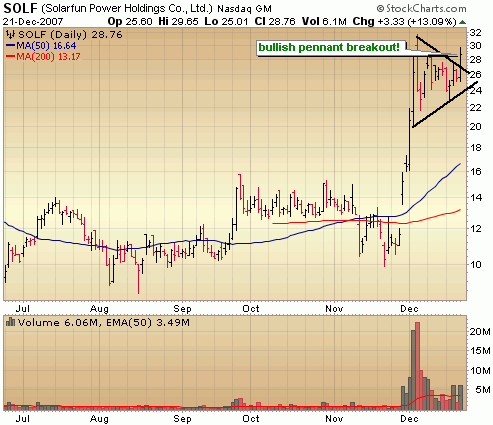 Disclaimer: I own a position in SOLF