I've mentioned in the new IPO Community forum recently (which you can sign up for here if you haven't), that the best way to trade new IPO's is to wait.  You give the stock at least 2 weeks to play out and let the dust settle on the volatility.  It often doesn't take long for the best IPO's to break out from a bullish pattern.. often a short flat base or a triangle formation.  Today in Visa (V), after just 2 weeks of trading, the stock broke out from a bullish triangle formation pattern with a tick up in volume.  So now the lines in the sand are drawn for Visa.  Support at 62.50, with the next level of resistance at the highs of 69.
Here's a look at the breakout from the triangle formation on the daily.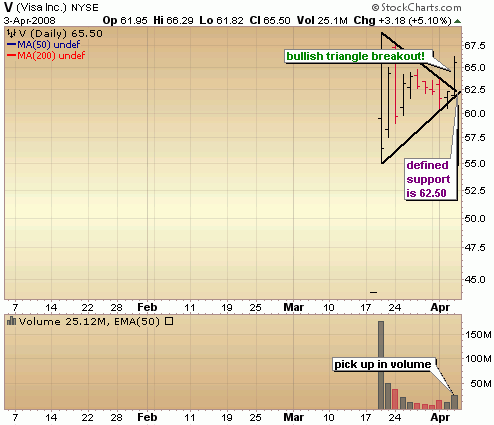 I really didn't get interested in trading Visa (V) for much of the day.  Although the price action was decent in Visa throughout the day, volume levels didn't reveal that institutions were doing much buying until the last hour of trading when volume levels picked up substantially.  Granted, there was some big selling going on as well but ultimately bulls won out with a nice breakout today.  Considering support is nearby at 62.50, in my opinion it's a good high reward, lower risk trade.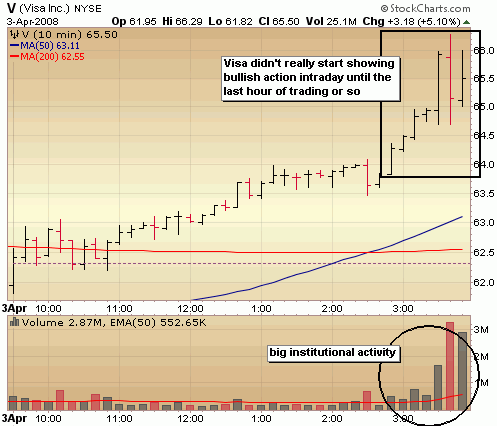 Disclaimer:  This is not a recommend to buy or sell, but an idea for further research.  Trade according to your own tolerance for risk.  I do own a position in Visa (V).