Tracking ETF's is a great way to track the flow of big money and spot sector/industry rotation. It's said that half the move in a stock is directly related to the health of the industry it's in, so sticking to stocks in industries where the money is flowing keeps you outperforming! Of course, you could just trade the ETF for better diversification.
The following table is a portion of the ETF Tracker, a Self Investors database which tracks only the most liquid ETF's (currently about 200). It's sorted by DI 15 which is a Demand Indicator score over 15 trading days. It measures the demand in an ETF by using price and volume data.
Description
Current
Price
Price
%
Change
Vol
%Chg
DI
15
DI
30
% From
50 DMA
% From
200 DMA
SMN
ProShares Ultra Short Basic Materials
Basic Materials Short 2x
38.16
-1.67
12
41
44
-9.49
-18.53
UYG
ProShares Ultra Financials
Financials Long 2x
31.59
-6.51
141
35
28
-6.92
-35.48
DUG
ProShares Ultra Short Oil & Gas
Oil & Gas Short 2x
38.55
-3.14
66
34
33
-7.33
-9.89
TAO
Claymore China Real Estate
China Real Estate
19.15
0.26
-79
26
27
-9.24
-9.24
IIH
HLDRS Internet Infrastructure
Internet Infrastructure
5.53
-1.25
-84
18
19
1.28
2.98
EFU
ProShares Ultra Short MSCI
Emerging Markets Short 2x
85.59
-0.09
-46
17
19
-3.66
5.99
ITB
IShares Home Construction
Home Construction
19.54
-6.73
143
17
17
6.72
-10.9
EWT
Ishares Taiwan
Taiwan
16.47
-2.43
21
14
20
11.74
6.67
MVV
ProShares Ultra Midcap
Midcaps Long 2x
64.53
-1.99
4
13
15
-1.63
-21.39
URE
ProShares Ultra Real Estate
Real Estate Long 2x
33.44
-6.2
28
12
17
7.46
-17.25
XHB
SPDR Homebuilders
Home Builders
21.55
-5.9
38
11
15
6.84
-5.94
IGM
Ishares Technology
Technology
51.84
-0.86
-74
11
15
1.55
-8.46
IGW
Ishares Semis
Semiconductors
51.07
-1.07
194
10
23
0.69
-16.02
Notice that only 2 ETF's are above both moving averages, the Internet Holders Trust (IIH) and the iShares Taiwan (EWT). IIH is a bit too illiquid for my taste (trades just under 40K shares a day) but Taiwan looks great and recently broke out on news of victory for the opposition party, the Kuomintang (KMT) which is expected to repair relations with China. It's overbought in the short term though and I'd be looking at an entry on a return to the trendline in purple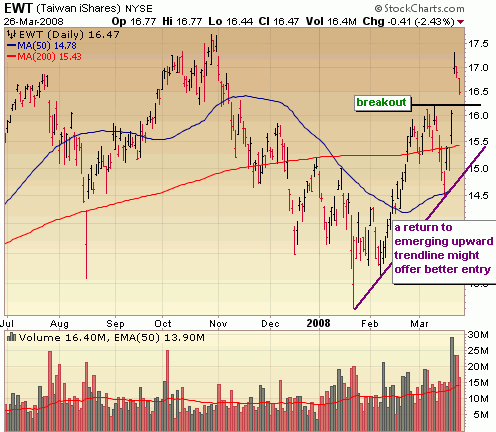 All the other ETF's listed are coming off bottoms, but are also a bit overbought in the short term. I'm really liking the leveraged ProShares Ultra Real Estate ETF (URE) and a pull back to around 30 would offer a decent entry for the long haul. I just want to see stochastics get more neutral at least and preferably in oversold territory.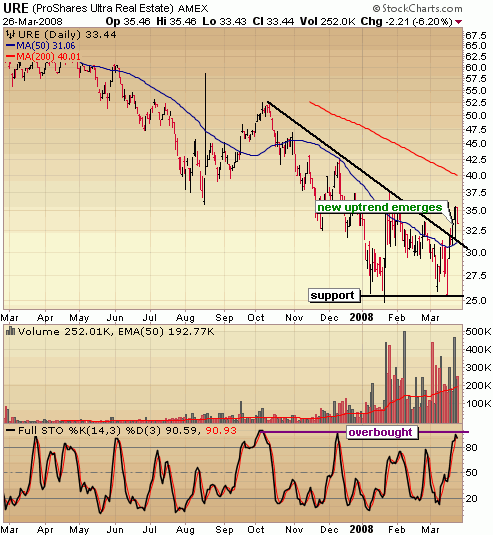 The ETF Tracker is one of 3 great tracking systems that Self Investors provides. Breakout Stocks and IPO Trackers are also available to Silver, Gold and Platinum members. See all membership options here. Your support of my independent research and tools with the purchase of premium memberships is greatly appreciated 🙂
Disclaimer: I personally own a position in DUG. None of the ETF's mentioned above are recommendations to buy. Please do your own research.