It's been a little while since I've taken a look at the SelfInvestors Breakout Tracker for a review of the top breakouts. It's not a great time to be pursuing breakout stocks with aggression, but in this report I hope to highlight a few potential leaders if this market turns around. I personally initiate positions in breakout stocks in difficult markets, but they have to be the best and showing tremendous accumulations. I limit my risk by initiating smaller positions and take profits and cutting losses much sooner.
In reviewing the breakouts of the past two weeks, it's clear that it's still a difficult market for leading stocks (most stocks for that matter). Just 20 breakouts occurred with ONLY 6 finishing the period with a gain. On the bright side only Cbeyond (CBEY) and Shengdatech (SDTH) have losses of 8% or more. So while most leading stocks aren't providing big gains, they aren't exactly falling apart quite yet either.
:::::::::::::::::::::::::::::::::
Did you know that you can get access to the Breakout Tracker all day everyday and keep on top of fresh breakouts in undiscovered companies for a measly $19.95 month! You can! Get all the details here.
:::::::::::::::::::::::::::::::::
You may click on the image below for a larger view to see the top breakouts of the past 2 weeks. These are breakout stocks with a total rank (fundamentals + technicals) of 50/60 or above. Have a look at the Breakout Center tutorial for a complete rundown of what the data in the table indicates (some is not self explanatory such as the DI scores)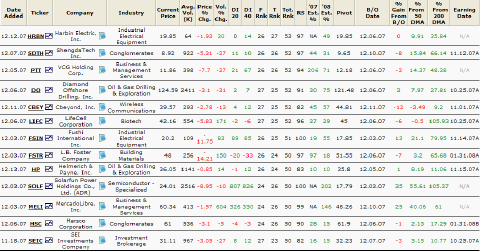 There were a few big winners to tell you about, most of which are China based but another that's considered the Ebay of Latin America, Mercadolibre.com (MELI). Once it broke out from its first base since going public, it was off to the races and is currently up 25% from the breakout point. This is why I don't think it's a bad idea to dabble in the best of breed breakouts.
There were four big China breakouts over the past few weeks, none of which in companies most are familiar with. These four could potentially be the next big winners coming out of China so are worth keeping an all eye on. All 4 are money makers with very good looking charts, including Solarfun Power (SOLF) which I won't highlight in detail because it's way too extended from a proper entry point (up 35% from the breakout point!) and not quite as under the radar as the other 3/
The highest rated breakout (score of 52/60) of the period was Harbin Electric (HRBN), a Chinese manufacturer of motor products and systems. You can see in the chart below that that HRBN broke of a base on base patternn in early December and volume continued to spike higher indicating tremendous demand. I see this pullback to the pivot as another opportunity to get in. I'll certainly be dabbling a bit more down here.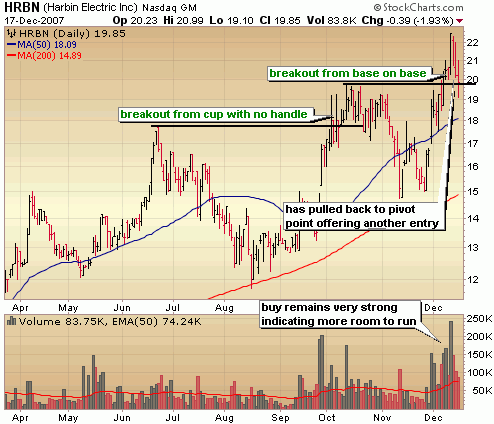 Shengdatech (SDTH) is the 2nd highest rated breakout of the week and just so happens to be another China play. SDTH is a China nanotech play. Bet you haven't heard that buzzword in awhile! It too broke out of a base on base pattern just a few days ago but doesn't quite have the buy conviction behind it that HRBN does. I'm looking to get into SDTH if it pulls back to the 50 day moving average around 8. Considering the run it's had I'm just not willing to put money to work up at these levels.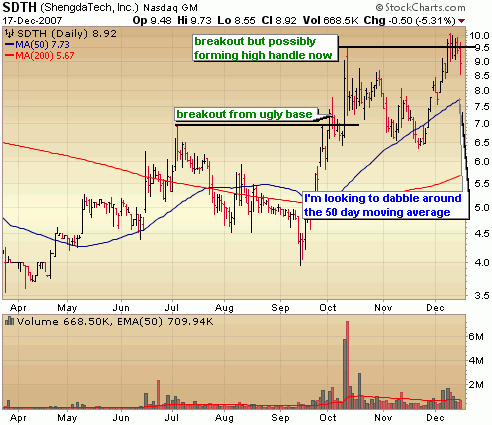 Fushi International (FSIN) is the 3rd "under the radar China play" I want to highlight today. The maker of electric wire products and components has been showing nothing but accumulation since it was listed on the Nasdaq just a few short months ago. Like HRBN, volume levels indicate tremendous demand, so any pullback to the breakout point (or pivot) around 18 would provide an entry point.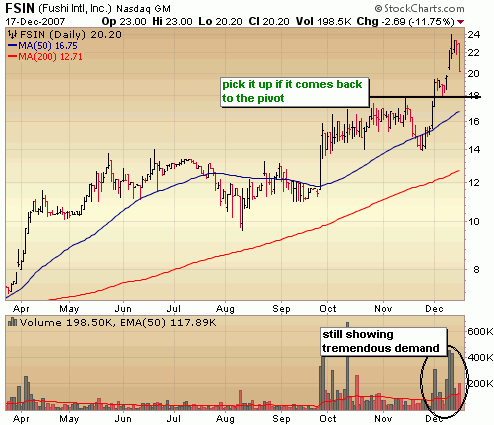 Disclaimer: I am personally long HRBN and looking to get longer.