A big move out of the dry bulk shipping stocks today with several breaking out of consolidations with heavy volume. Excel Maritime (EXM) reclaimed support of its 50 day moving average in a big way. The dry bulk shippers have been on a wild ride over the past year and a half, many plummeting 80 – 90% from their peaks in late 2007. Since late November, this group has been stabilizing along with the overall market, seeing a big wave of institutional buying back in early December, another wave of buying in early January and now the trend continues with a big surge in the past two days.
DryShips (DRYS) has been in the news of late, taking traders on a wild ride. Last week the company was notified that it was in breach of its financial terms on a large chunk of debt and the company announced it would dump stock and cancel ship orders to preserve liquidity. The stock plummeted more than 50% in just 3 trading days….
Yesterday, the stock got a reprieve when it announced an agreement with Piraeus Bank to restructure two of its loan facilities in order to regain compliance, resulting a swift recovery rally. DRYS is a favorite of traders, but I prefer to take a look at its competitors – TBSI International (TBSI), Diana Shipping (DSX), Excel Maritime (EXM) & Genco Shipping (GNK).
All broke out today with heavy volume and could gap up in the morning. Be very careful about chasing these particularly in this market. Be patient and wait for your price. Diana Shipping (DSX) is probably the safest of the group while Genco Shipping has problems of its own having recently suspended the dividend and share buyback. It should be noted that most of the shippers have suspended their dividend, but as far as I know Excel Maritime (EXM) is still paying out.
Yes, the shippers have problems but these are technical trades of a few weeks. They look quite bullish in the short term.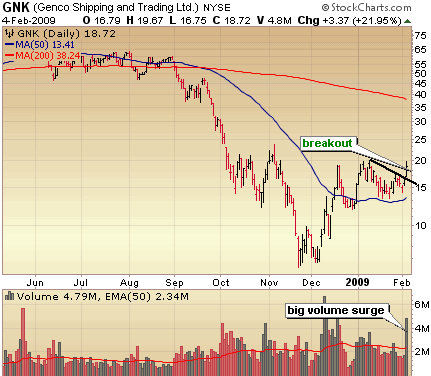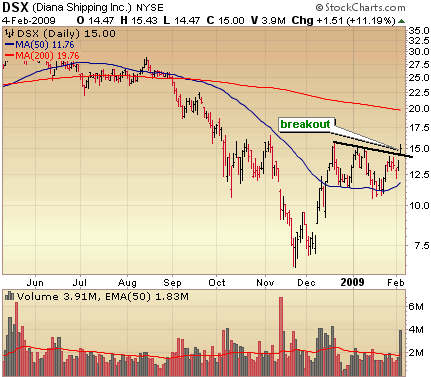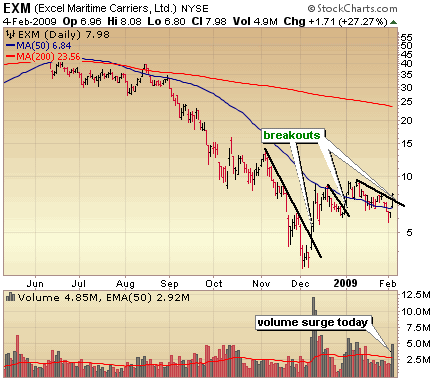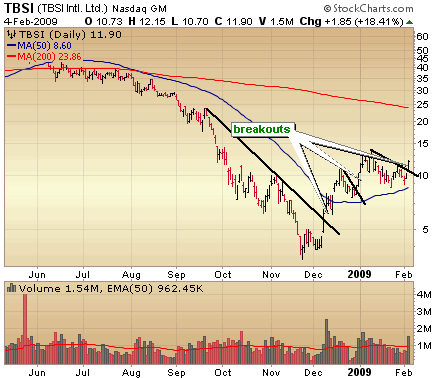 Disclaimer: I don't currently own any of the stocks mentioned in this article.