A major international oil/gas industry perspective is that Exxon Mobil, British Petroleum, Royal Dutch Shell, Chevron, Total, ENI, etc. historically prevailed in global exploration and production developments. However, this perspective must now be amended to include the national oil companies of Brazil, Russia and China. Relatively new majors are Gazprom (Russia); Petrobras (Brazil) and three Chinese companies namely: 1) China National Offshore Oil Company, CNOOC, (SNP. NYSE); 2) China Petroleum & Chemical, Sinopec, (SNP.NYSE); and 3) PetroChina Corporation Ltd., (PTR.NYSE). The three Chinese oil companies is the thrust of this fourth oil/gas industry perspective. Please note that only the NYSE stock symbols are provided although these Chinese Corporations are also listed in Shanghai, and/or Hong Kong and/or London. SNP is listed on all four exchanges.

CEO (CNOOC Ltd.) is an independent offshore oil and gas exploration and production company with four offshore China production areas namely, Bohai Bay, Eastern, Western and Southern South China Sea. CEO is an offshore producer in Indonesia, Australia and Africa. In 2006 CEO acquired offshore licenses in Nigeria. Market Capitalization is $67,120 millions with estimated P/E of 16.7.

PTR (PetroChina Ltd.) activities include petroleum and natural gas within four business segments; 1) Exploration and Production, 2) Refining and Marketing, 3) Chemicals and Marketing, and 4) Natural Gas and Pipelines. PTR was established as a joint stock company as part of the restructuring of the China National Petroleum Corp. (CNPC). CNPC is the controlling shareholder of PTR with 88.21% shares. Market Capitalization is $274,350 millions with estimated P/E of 13.9.

SNP (China Petroleum & Chemical Co.) is an integrated oil, gas and chemical company with operating segments for exploration, production, refining, marketing, distribution and chemical manufacturing/distribution. Market Capitalization is $98,477 millions with estimated P/E of 12.4. SNP was setup in February, 2000 by China Petrochemical Corporation as the sole initiator, pursuant to the Company Law of the People's Republic of China. SNP issued 16.78 billion H shares in Hong Kong, New York and London in October, 2000. The Company floated 2.8 billion A shares in Shanghai in July 2001. As of end 2006, The Company's total number of shares was 86.7 billion, of which 75.84% was held by the State through Sinopec Group, 19.35% by H share holders and 4.81% by investors in China. SNP website provides stock quotations for all exchanges they are listed on. CEO, PTR and SNP company names above are hyperlinked to each company's website. [A shares are principally for mainland China; H shares are listed on Hong Kong, New York and London]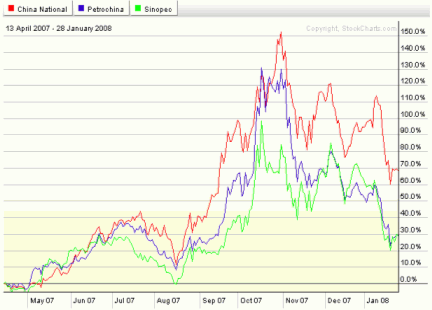 PS
The following company is not included in the above perspectives but is of interest because of their Chinese exploration and development activities.
Ivanhoe Energy (IVAN)
is an independent international heavy oil development and production company. Core operations are in the United States and China. IVAN currently has oil production at the Dagang Project, in northern China and a production sharing contract for an exploration and production block in the Sichuan Basin.
Ivanhoe Energy Inc. (IVAN) plans to start the second phase of gas exploration at the Sichuan project in China through its subsidiary Sunwing Zitong Energy Ltd. The company says the new phase has drawn interest from Mitsubishi Gas Chemical Company Inc., which has a 10 per cent holding in the project. IVAN has a partnership with Mitsubishi Gas Chemical Co. and a 30-year production-sharing contract with PTR. IVAN recent stock price was 1.38 +0.03 (2.22%) Jan 28 4:00pm ET. Long term traders may consider this stock as a long term small cap investment which would be considered highly speculative.

Industry Perspectives

1) The Chinese government in November, 2007 ordered the nation's refiners to run their plants at full capacity to increase supplies and end fuel shortages. Local governments were urged to set up an early warning system to ensure sufficient oil supplies at filling stations. SNP has almost 29,000 retail fuel outlets, according to its Web site.
2) SNP, a sponsor of this year's Beijing Olympic Games, supplied almost two-thirds of China's refined oil products in 2006, according to its Web site. China's economy expanded 11.5 percent in the first nine months of last year, spurring demand for fuels and chemicals to run automobiles and factories.
3) PTR's service stations totaled 18,846, an increase of 912 stations, or 5.09 percent increase from the same period last year.
4) For the period from January to September this year, the Company processed a total of 611 million barrels of crude oil, representing an increase of 30.4 million barrels, or 5.2 percent increase from the same period in 2006. Additionally, PTR's capability to produce gasoline and diesel complying with the National Phase III and IV Motor Vehicle Emission Standards has been continuously developed.
5) CEO Limited announced its business strategy and development plan for 2008 with targeted net production of 195-199 million barrels of oil equivalent compared with the estimated net production of 169-171 million barrels for 2007. During 2008 ten new projects are expected to come on stream, including major offshore China projects. Source: Rigzone
6) Following the completion of the Lanzhou-Yinchuan Gas Pipeline, linking the West-East Gas Pipeline and Sebei-Xining-Lanzhou Gas Pipeline, PTR's four key natural gas regions – Tarim, Changqing, Qinghai and Southwest – have been successfully connected,
7) There are four energy laws in China covering coal, electricity, energy conservation and renewable energy, but none on petroleum, natural gas and nuclear energy. Draft energy legislation won't be ready in time for lawmakers to read at the annual session of the National People's Congress ruling out discussion on a unified national energy body at the parliamentary session in March, 2008. The draft law emphasizes a unified management system to plan, run and supervise China's energy sector, which is currently managed by a number of government departments and agencies.
8) Author has consulting engineering experience with China National Petroleum Company (CNPC) involved in the construction of a diesel oil pipeline in Pakistan. Consulting experience included coordination meetings in Beijing, Dubai and London. Gambay
9) CNPC has cooperated with Canadian counterparts in oil sands, including oil sands development, pipeline transportation, trading and technology exchanges, etc. The company has made an extensive study in terms of oil sands resources, market and technology and acquired 11 leases auctioned by provincial government of Alberta early this year. CNPC will further cooperate with the Canadian petroleum sector and jointly explore collaboration in oil sands development, crude oil pipeline construction and downstream upgrading.
10) Chen Tonghai, former general manager of the China Petroleum and Chemical Group (SNP), has been expelled from the Chinese Communist Party (CCP) and the government and officially charged with corruption. The CCP Central Commission for Discipline Inspection and the Ministry of Supervision announced the moves in a statement after a joint investigation on Chen, who was also the Sinopec Party chief, which began in June last year. Chen had been accused of taking bribes to help others, including his mistress, make unlawful profits, and he also led a "corrupt life," according to the authorities. Source:
Rigzone
.
11) China plans to speed up construction of oil and gas pipeline networks to enable more efficient delivery and better allocation of storage in the country, according to the country's cabinet, known as the State Council. The national plan may coordinate separate plans set by China's two oil majors – PTR and SNP and will likely speed up building of strategic and commercial oil reserves. PTR and SNP existing and planned domestic oil and gas pipeline joint ventures total more than 10, including a flagship west-east gas pipeline and a Sichuan-Shanghai gas pipeline. Source:
Downstream Today
.
12) China plans to expand natural gas consumption from 3% (2006) to 5.3% (2010). Natural gas will be transported from Western China and also imported from Russia, Turkmenistan and other Central Asian countries.

13) Similar to international companies, SNP has set up a standardized structure of corporate governance and adopted a management system of centralized decision-making, delegated authorities in management and business operations handled by specialized business units.
14) Coal accounts for 70% of China's total energy consumption with reserves of over 1 trillion tons, or at least 100 years.
15) November 30, 2007, Anchorage, Alaska – Governor Sarah Palin announced that five companies had submitted applications for the exclusive right to build a natural gas pipeline to transport North Slope gas to market. The applicants are Alaska Gasline Port Authority, AEnergia LLC, TransCanada, Sinopec (SNP) and Alaska Natural Gas Development Authority. Source: State of Alaska website The Alaska gas pipeline project and its history will be the subject of a future Industry Perspective since the author was involved in the 1980 feasibility study, definitive cost estimates and frost heave test sites instrumentation and data acquisition.

16) China delivers oil revenue to Sudan as well as Chinese military equipment, including fighter planes and helicopters. Diplomatic support is also delivered, especially in the United Nations. Sudan is accused internationally of genocide in Darfur. Human rights groups claim Sudan systematically massacre civilians for clearing oil-producing areas. US companies are prohibited from investing in Sudan.
17) Last year China signed a $70 billion oil deal with Iran. Iran/Chinese business relationships will impact UN activities to isolate Iran diplomatically.

18) Is China democratizing? What are the prospects for democracy in China? Chinese leaders do not think of democracy as people in the West generally do, but they are increasingly backing local elections, judicial independence, and oversight of Chinese Communist Party officials. How far China's liberalization will ultimately go and what Chinese politics will look when it stops are open questions. For Professor John L. Thornton paper addressing this subject please use this Council of Foreign Affairs link. Professor Thornton is at the School of Public Policy and Management at Beijing University.
Summary

The above perspectives include both financial and political considerations. Trading these three Chinese stocks is at each trader's discretion based on their fundamental and technical analysis and their political conscience. Technically the charts above have responded to overall global economic weakening but others could consider the present pricing as potential trades.
Is this a conundrum or what? To invest or not to invest, that is the question. My suggestion is to add these stocks to your watch list to see if any upwards trends develop. Your personalized trading strategy and plan will define short and long term trends periodicity and let your plan's money management take care of any down trends. That is, if you are not in a politically correct trading mode.
The more experienced may wish to consult Mr. Elliott and Mr. Fibonacci for guidance as to where and when to trade these stocks. If Mr. Elliott and Mr. Fibonacci are kind enough to provide such guidance we would be most pleased if you could share such guidance with us. It would be most interesting to determine if waves and retracements apply in these complex global scenarios.
Non-Industry Perspectives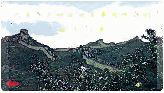 A non-financial recommendation to those would-be Great Wall visitors is to use the cable car (see ticket thumbnail photo) which will not stress your calf muscles since portions of the wall are very steep, without steps, and easier traversed
Author Bio
Robert is a valued contributor to Self Investors and provides great insight into the oil industry. He has 40 years of experience which includes oil/gas engineering in crude oil/petroleum products/natural gas, refining, processing and pipelines on all continents, except South America and Antarctica, from Alaska and Australia pipelines to S.E. Asia offshore, from UK North Sea to Los Angeles fuel truck racks and from Romanian pipelines to West Africa FPSO.
Chinese Proverbs
"Leave a good name in history; be remembered"
"Let every individual give full play to his or her talent"
"An outstanding man gives an air of sanctity to his birthplace; a fair place tends to produce outstanding people
Disclaimer: Author has no position in the companies mentioned above